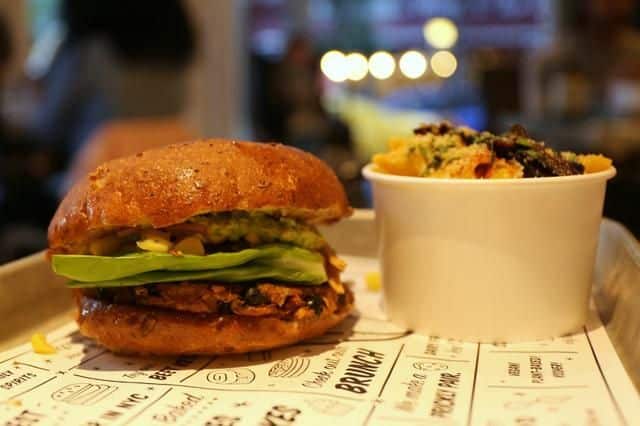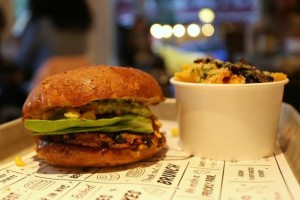 Manhattan is one of the best places in America to find vegetarian and vegan food. Whether you want to treat yourself to a culinary tour where you won't feel left out, or you just want to find something healthy to eat, there's lots to choose from. Begin the day with a hearty breakfast in Chalk Point Kitchen or wolf down some waffles in La Petite Abeille, and then check out what the rest of the island has to offer.
Experimental cuisine
New York is famous for its culinary innovation and that's no less the case when it comes to vegetarian food. Candle Café produces some of Manhattan's most intriguing fusion food, and the profusion of small dishes on the menu means you can explore lots of different tempting tastes at a single visit. Candle 79, meanwhile, has creative versions of classic American dishes reinvented with organic ingredients and complemented by a great range of beers. For a taste of something that's as simple as it is original, visit kai seki restaurant Kajitsu, which uses fresh ingredients to create subtle tastes that are mouthwateringly good.
Burger bars
Sometimes nothing satisfies like a burger, and you don't need to be a meat eater to enjoy some delicious examples of America's favorite fast food in Manhattan. Even if you were a meat eater, you'd struggle to find anything to compete with Blossom's soy bacon cheeseburger, which is wonderfully thick and filling, charred and crispy just where it should be, and generously steeped in vegan cheese. If you fancy something tangy or spicy, The Pickle Shack is fantastic, and it offers potato rolls so it's a good choice if you're avoiding wheat. Also well worth checking out is The Organic Grill, which uses portobello mushrooms stuffed with a variety of delicious vegetables to create its famously tasty Green Machine burger.
International delights
You probably won't be surprised to hear that the famous melting pot of the Big Apple has produced some fantastic vegetarian restaurants showcasing food from around the world, but you may be surprised by just how much variety there is. Beyond Sushi serves some of the best vegan Japanese food in the country (and you can still get tamago nigiri) while Hangawai and BCD Tofu House get creative with Korean cooking. Vatan has fantastic vegetarian Gujarathi options and Pongal serves delicious South Indian dishes that are also kosher. If you want to enjoy a big plate of nachos dripping with vegan cheese, head for Mexican Radio. If you like the idea of an old fashioned Italian diner with lots of vegetarian and vegan choices on the menu, you'll love John's of 12th Street.
Planning your trip
The compact nature of Manhattan means you can see a great deal in a short time, but that's still easier if you're staying somewhere central. BlueGreen Resorts offer accommodation in Midtown that's close to Central Park and is the perfect base for exploration. BlueGreen resorts are famous for the luxury they provide and the attentiveness of their staff, so this is a great place to chill out after a day spent visiting attractions like the Statue of Liberty, the Empire State Building and the Metropolitan Museum of Art. It's also just a short hop from Times Square where visitors gather at night to see the lights, and of course there are lots of great restaurants nearby.
Eating out in Manhattan is a real treat that will leave you full of ideas for new things to try in the kitchen when you get back home. You'll be longing to return as soon as you can free up the time, to take another bite.