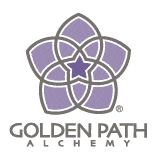 Nothing feels as indulgent and luxurious as using the best possible goodies
on your skin. Golden Path Alchemy has an entire line of exactly that,
all natural skin and body care products!
Combining Eastern and Western herbs, therapeutic essential oils and holistic practices,
their products don't just feel and smell good, they are good FOR you.
Check out my video review below!