*This is a sponsored conversation written by me on behalf of Ocean Spray®. The opinions and text are all mine.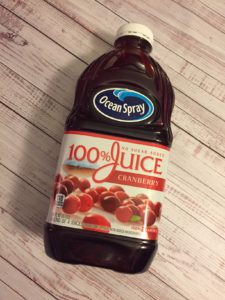 These days, there is soooooo much conflicting information about health. Every day we hear something new or confusing and it can be difficult to make sense of it all. However, one thing that has been a blossoming and concerning topic is the overuse of antibiotics and antibiotic resistance. That's why I'm so excited that my friends at Ocean Spray® are not only shedding light on this topic, but also sharing how their yummy cranberries are a fabulous defense toward this antibiotic overload and resistance!
So what is Antibiotic Resistance?
Antibiotic resistance is when bacteria stop responding to the drugs designed to kill them – is possibly the single most important infectious disease threat we face today. In fact, each year, more than 2 million people in the United States get infections from germs that are resistant to antibiotics– and at least 23,000 people die as a result.1  The single most important action to slow the development and spread of antibiotic-resistant infections is for us – every one of us – to improve the way antibiotics are prescribed and used.  If we don't, we risk turning back the clock to a world where simple infections could kill people as they did a century ago.
How are UTI's associated with antibiotic resistance?
UTIs are the second most common type of infection treated with antibiotics. According to the American Urological Association, it is estimated that 150 million UTIs occur yearly world-wide, accounting for $6 billion in health care expenditures.
Approximately 60 percent of women will experience one UTI in their lifetimes and one in four women will suffer a recurrence within six months.,
It is believed that consuming cranberry juice daily may be a nutritional approach to reducing UTIs, and therefore antibiotic use.  In fact, Dr, Jennifer Berman recommends drinking one 8oz glass of cranberry juice a day to help prevent infections. 
It is believed that cranberry juice may be part of a solution to address this globally concerning issue of antibiotic resistance. Ocean Spray® is proudly helping consumers meet the recommended daily intake of fruit, being an important part of a balanced diet, and cranberries are supported by more than 50 years of research suggesting that they play an essential role in promoting health and wellness. Drinking 8 ounces (240 mL) of cranberry juice a day can be a nutritional alternative to daily low-dose antibiotics to reduce symptomatic urinary tract infections, and thereby reduce the amount of antibiotics used to treat them.6
Now, new research shows that the cranberry's benefits may have a more impactful role than previously thought. Results from a landmark clinical study published by the American Journal of Clinical Nutrition conclusively shows that cranberries can be a nutritional approach to reducing symptomatic UTIs, and as a result, may be a useful strategy to decrease worldwide use of antibiotics. This comes as welcome news as the threat of antibiotic resistance continues to grow worldwide. Dr. Berman says that the proanthocyanidins in cranberries can help reduce the adhesion of bacteria in the body and specifically in the bladder. Brilliant!
To learn more about the exceptional cranberry, its one-of-a-kind health benefits and why researchers believe its may be able to reduce the worldwide use of antibiotics, be sure to click here.
Be sure to participate in the #DrinktoDefend campaign by sharing on Twitter/Instagram/Facebook what you are doing to combat antibiotic resistance and using the hashtag #DrinktoDefend and tagging @OceanSprayInc
I hope you get the most out of Get Smart About Antibiotics Week and share the knowledge!
——
1 Get Smart About Antibiotics Week 2015: Preserve the Power of Antibiotics; CDC; http://www.cdc.gov/media/dpk/2015/dpk-antibiotics-week-2015.html
2 American Urological Association. "Adult UTI: Epidemiology/Socioeconomics/Education." Available at: https://www.auanet.org/education/adult-uti.cfm   
6 Maki KC, Kaspar KL, Khoo C, Derrig LH, Schild AL, Gupta K. Consumption of a cranberry juice beverage lowered the number of clinical urinary tract infection episodes in women with a recent history of urinary tract infection. Am J Clin Nutr 2016; 103(6), 1434-1442.
This is a sponsored conversation written by me on behalf of Ocean Spray®. The opinions and text are all mine.