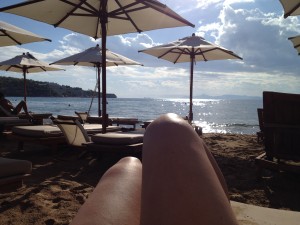 A high quality of life means something different to everyone, but there are some things which have been shown to improve a person's sense of happiness, satisfaction, success, and ability to cope with stresses when they occur. Luckily, nearly all the things which have been linked to improved life quality can be incorporated into our lives with little or no expense so that most people can enhance their quality of life in some way. Maintaining a balanced life of healthy habits and positivity is not always easy, but it's something worth striving for. To help you work out what changes you can make, here are five simple ways to improve your outlook for the better.
1. Build and Maintain Positive Relationships
The relationships we build with other people are hugely influential in our lives. If we spend too much of our time with people who are unsupportive or lower our self-esteem, we are likely to become drained of energy and more stressed. If we have a support network of positive people who bring out the best in us, we will enjoy a much higher quality of life and will be much more resilient when it comes to handling stressful situations.
2. Practice Self Care
Far too many of us fail to take care of both our mental and physical wellbeing. If we don't get enough sleep or get the right nutrition, our bodies naturally default to a 'fight or flight' mode which makes us more prone to stress and lowers our bodies natural defenses. Make sure you are getting enough sleep, a balanced diet and time to de-stress with the things that make you happy so your body can repair and refresh for the next day's challenges. Without this self-care routine, we may also be more prone to mental health issues which can worsen over time. It may be that a vacation or break from stresses is enough to get us back on track, but sometimes someone may need professional support through a mental health facility like igniteteentreatment.com.
3. Find Exercise You Enjoy
Exercise is key to maintaining both our physical and mental wellbeing, but it shouldn't be a punishment. The best way to improve your life with exercise is to make sure it's something you enjoy doing. Find a fun exercise class as you're far more likely to incorporate it into your life on a long-term basis. Exercise helps us to relieve stress and enhance our mood. You may even find that joining a class results in new friends or a sense of community with the group which can also have huge benefits for our self-esteem.
4. Do Something for Work or as a Hobby Which You Enjoy
A common source of frustration for many people is a dissatisfaction with their work or a feeling that they don't do anything of 'meaning.' If this is the case for you, you could investigate a career change which motivates you, but this isn't always easy to do. This doesn't mean you can't find activities outside of work which gives you a greater sense of fulfillment. For example, a hobby you are good at or volunteering with a worthwhile charity can be great ways to spend your free time.
5. Rid Your Life of Energy Drains
Identify the things, people and places in your life which drain you of energy. It might be that there are several small things which add up to bring you down on a regular basis, and at least some of them may be easy to change. If we are continually facing small obstacles or mild stresses, we may find we are less able to cope with significant issues when they arise. Make a list of things you could do without and try to work out a way to minimize their impact.