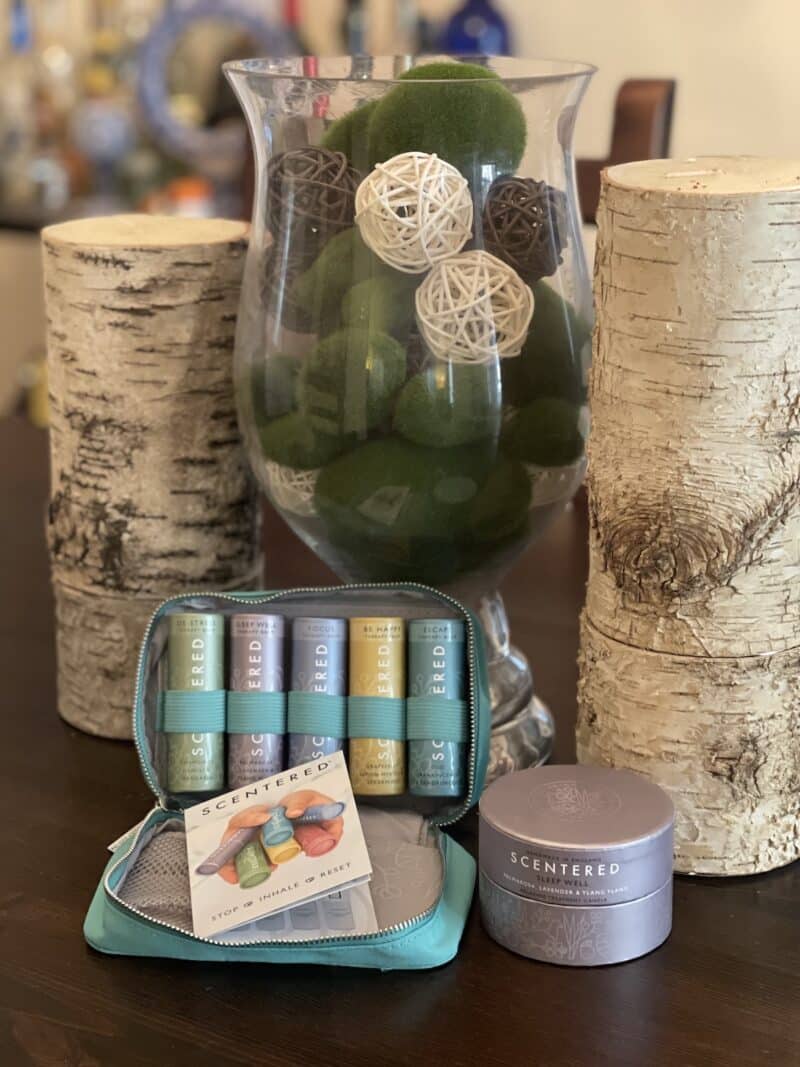 There is no denying that our stress levels are more heightened than ever before. Be is what's going on in the world or in our own homes, life is challenging and it's so important to find ways to reduce stress and achieve balance. That's why I love Scentered products as they have a wide variety of products that can help get you in or out of whatever mood you are in or want to be in!
Scentered, a mindfulness lifestyle brand with portable robust exceptionally blended aromatherapy balms at the heart of their offering. The balm set supports and enhances habit change through a unique Wellbeing Ritual, teaching people how to use the power or our sense of smell as a tool to direct our thoughts, emotions and actions to live happier lives. Their products are 100% natural, using essential oils for their plant-based aromatherapy balms and candles. Their eco-conscious values ensure they minimise their sustainability footprint while helping customers on their journey to self-love and mental wellbeing.
Scentered's line of 100% natural, essential oil-based Aromatherapy Balms, Candles, Hair Care and Body Care products provide portable solutions to support mindful transitions through life's everyday journey.
Scentered's plant-based aromatherapy products are uniquely blended from the finest ingredients sourced around the world to deliver need-based solutions. When applied to your pulse points, the balms provide an instant, personal sensory experience, while their candles create a shared sensory experience through ambience and mood-setting. Their eco-conscious values ensure they minimise their carbon footprint while maximising the Creative Reusability of the packaging.
They offer six unique, award-winning blends that provide purposeful solutions to the most commonly desired emotional states like SLEEP WELL Aromatherapy Candle, DE-STRESS, FOCUS, HAPPY, ESCAPE and LOVE. Scentered encourages you to Stop. Inhale. Reset.
Their award winning blends contain up to 25 essential oils to provide truly unique scent experiences, Scentered is not designed as a "fragrance" to be used as perfume or cologne that will be noticeable throughout the day.  They intentionally use moringa and shea butter as the carriers for our balms to create a mess-free application when applied directly to the skin.
These moisturising natural ingredients provide an immediate personal sensory experience when you "Stop. Inhale. Reset.", allowing you to mindfully transition your mindset as the essential oils are absorbed into your skin and the aroma gently fades away.  This frees you to apply another blend a short time later as you transition from mindset to mindset throughout the day without creating a complicated layering effect, allowing you to enjoy each blend as it was designed.  Their Sleep Well balm is designed to linger a bit longer, as you breathe deeply and drift off to sleep.
Our Candles have been developed to complement their balm blends and are intended to fill a room with mindful meaning. While other candles are all about fragrances, their candles were designed to reinforce the mental connection between the desired thoughts and outcomes created in the mind from using their Signature Ritual Collection.
You can be use the aromatherapy candles to create personalised ambience or offer friends and family a shared sensory experience designed to produce a specific mind state on demand.
I love Scentered balms and candles and use them daily since I discovered them. For every part of my day, Scentered is there!