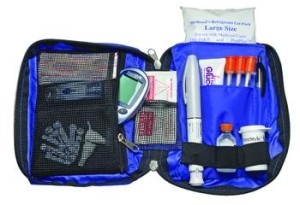 Breaking free from work- and home-related stress is the fun part of traveling and vacation. But it's good to go on a retreat with your care supplies, especially if you have diabetes. Whether you want to lie in the Malibu sunshine or go hiking in the Canadian Rockies, you can turn to your diabetic supplies to make your journey more successful and safer.
Your condition shouldn't stop you from doing things you want to do. Although travelers with diabetes may not be able to avoid the odd surprise of blood sugar spikes, preparing before you leave can help avoid unnecessary stress.
Here are some essential supplies to make traveling easier and manage diabetes during the journey:
 CGM (Continuous Glucose Monitor)
Continuous Glucose Monitors allow you to quickly and easily see when your blood sugar is going low, high or normal. And modern offerings provide the added flexibility of monitoring blood glucose from a distance of ten to twenty feet, which gives you the added flexibility your travel lifestyle demands.
Unlike carrying fingersticks that prevent a number for a single point in time, CGM devices provide dynamic information that display where your glucose is, where it is going, and how fast it is going to get there. Compatibility with computer operating systems and mobile makes it easy to download and share the information with your loved ones, or even your doctor.
Socks for diabetics
Diabetes can cause several problems in the feet and that's why it's important to be assertive and take a preventive approach to caring for the feet during travel. High quality diabetes socks should be present in the essential supply list as they do well to address the moisture in the shoe seams as well as wrinkling and bunching, all of which can be irritating for diabetics with sensitive feet.
Diabetic socks, in fact, are the first layer of protection when it comes to protecting vulnerable and sensitive feet. They are available for both males and females and in different versions such as gel, wide and seamless diabetic socks. Consumers can select different color options depending on their preference or travel attire.
Extra loaner insulin pump
You may be going on vacation for only a week, but it's a good idea to pack diabetes supplies as if you would be going for twice as long. If you are currently using a pump, you should also remember to take an extra one. A back-up loaner pump should be on your supply checklist in case there is an issue with the one you're wearing.
Simply call the pump company you use to ask for an extra vacation loaner pump. You might have to leave a debit or credit card number as a deposit, or pay a small rental fee; the arrangement will depend on your company's policy.
Medication
Diabetics are recommended to follow a certain diet plan, so keep snacks, glucose and the prescribed tablets in greater than normal quantity in case of travel delays. Also make sure to carry medical identification that says you are a diabetic.
Take copies of prescriptions with you in case airport authorities ask for medication proof. As for the food, pack a small cooler of snacks that is convenient to eat while traveling, such as sliced fruits, nuts and vegetables.