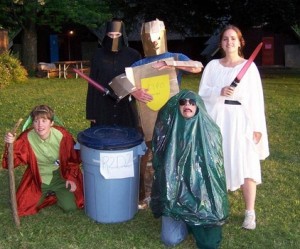 The most eco and budget friendly tips for fantastic Halloween costumes is to make your own. Whether you're crafty or not, you can go as elaborate or a simple as you like.   Plus you will avoid hearing, "OMG, we're wearing the same costume" at any spooky festivities!
Personally, I love to raid local thrift stores or hit up garage sales year round. I not only get great inspiration but we save a lot of moola by not buying pre-packaged costumes. I put together my costume by just recycling people's discarded clothes and jazzing it up with wigs and accessories.  If you or a friend has a sewing machine, you can alter and embellish the garments for a unique disguise.
And if you really want to play it cheap and/or clever, plays on words are great.  Use a big box and decorate it to look like your favorite cereal. Cut a holes out for your head and arms, grab a plastic knife & be a cereal killer! Or cheaper yet, tease your hair & pin socks and underwear to your clothes and voila, you're static cling!
Here are just a few costumes I've done for way less than what you would pay for a store bought costume: