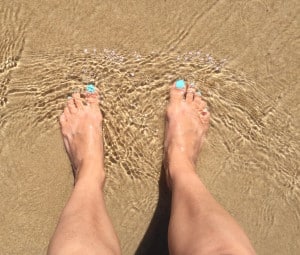 Chances are, when you think of a relaxing massage, you imagine a whole-body massage. But, as it turns out, research shows that a quick and simple foot massage also provides many of the same therapeutic comforts.
And like a body massage, you can also research nicelocal.com to find foot massage near me to begin experiencing its many benefits, which include:
Helps Balance Your Nervous System and Calm Your Nerves for Improved Mental Health
Many mental health problems, such as depression and anxiety, are caused by a dominant nervous system, which causes your body to remain in a constant state of anxiousness.
This can result in an increased release of stress hormones, like cortisol, which has been linked to weight gain, insomnia, and more.
However, foot massage, especially reflexology, is shown to help calm the nervous system, which causes a release of morphine-like endorphins that help promote an overall sense of well-being and relaxation for a more positive mood, thus helping to reduce many of the symptoms associated with mental health disorders.
Regular foot massage can also help ease many symptoms associated with hormonal imbalance, including irritability, mood swings, tension, insomnia, and more.
Helps Reduce High Blood Pressure and the Risk of Cardiovascular Diseases
Stress from work, everyday living, family life, and more can elevate your blood pressure, which, if left ignored, can eventually lead to a constant state of high blood pressure, which puts you at risk of stroke, heart attack, and more.
A number of clinical studies show that foot massage significantly reduced blood pressure in the controlled group and in as soon as after just one 15 to 30-minute session. Hence, researchers conclude that it can be used to help manage high blood pressure in those at increased risk of cardiovascular diseases, such as those who live a high-stress life, when done regularly.
Helps Alleviate Foot and Other Body Pain
The feel-good endorphins that foot massage release also helps alleviate common foot pain, such as after a long day of standing.
Reflexology, in particular, not only helps ease foot pain, but it can also be used to help alleviate pain in other parts of the body, including head and back pain, by activating the pressure points on the foot that correspond to that area, which helps improve circulation to the spot, thus stopping it from hurting.
When done regularly, it can even help you depend less on pain medication.
Helps Those With Diabetes Improve Circulation to Their Feet and Legs
One of the most common symptoms of diabetes is poor circulation, which can eventually lead to limb and organ damage.
Therefore, doctors often recommend that their patients regularly participate in activities that can help improve circulation throughout their body, legs, and feet, such as foot massage, to help keep the tissues healthy and prevent nerve damage.
Helps Boost Infection-Fighting White Blood Cells For Improved Health
The increased circulation that foot massage provides also helps boost white blood cell activity, which helps strengthen the immune system to fight off infections and diseases for a healthier you.
It also reduces stress hormones that can weaken your immune system.
Helps Prevent Foot and Ankle Injuries
Regularly massaging your feet also helps keep them and your ankles strong and flexible, which helps prevent injury, especially during sports.
It also helps heal your feet and ankles after an injury.
Helps Keep Your Feet Healthy
Foot massage increases blood flow, which helps transport nutrients and oxygen to the area, thus promoting healthy feet.
Healthy feet not only look nice, but they also support your body weight, which helps improve balance, posture, and overall mobility.
Massaging your feet also gives you a chance to check for corns, calluses, ingrown toenails, and more, so you can properly treat them before they become worse and affect your ability to walk or wear certain shoes.
It is also especially important for those with diabetes to regularly check their feet for injuries, which can be an early sign of limb damage.
Helps Maintain a Healthy Sex Drive
Foot massage is also shown to increase circulation to your sex organs, which helps support a healthy sex drive.
The feel-good endorphins released during the massage also help put you in a good mood, which also supports intimacy.
Helps Promote Quality Sleep
A few minutes of foot massage before bed has been shown to help you unwind and relax, which helps promote better sleep.
So there you have it. Foot massage provides many health benefits when performed regularly, and you can even locate a foot massage therapist near you using nicelocal.com. However, experts state that even just a few minutes of foot massage done yourself is enough to stimulate some benefits. So whether you schedule an appointment with a professional or do it yourself, the next time you crave a bit of healing, remember what a foot massage can do for you, and go for it!