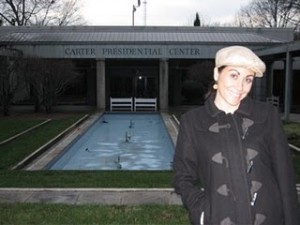 You know you're a foodie when you are in the middle of one meal and chatting about your next! Because of such conversations I was able to find the last few places on my trek through Atlanta before I headed back home to the sunny west coast; )
I was told I needed to check out East Atlanta as that's where the "real" locals hang. So I did and I found Cenci. Cenci is a vegan/veggie bar and club as well as awesome restaurant. How freakin' cool!!! They are only open for dinner and most nights they have a dj. I would suggest the philly, chicken fingers, egg rolls, and collard green rolls with your jams ; ) Cenci is located at East Atlanta Village
1259 Glenwood Ave, Atlanta, GA 30316, (404) 627-0533.
Dan and I wanted to catch a flick and unwind so we found a theatre at the new Atlantic Station. Packed with restaurants, bars and entertainment, this little commune of fun had some cool places like Doc Green's and The Lobby among many more super trendy and happenin' places to eat, drink and hang. At Doc Green's, I grabbed a nice portobello wrap to sneak into my 3 hour movie. They had fresh salads, soups, sandwiches, flatbreads and more. After the movie we sauntered over to The Lobby for a nightcap and I thought my margarita would go well with some fresh guacamole and chips. It was very nice inside and seemed the quite to nightclub. You can see what else is bumpin' at Atlantic Station online.
Lastly, but not leastly, where do you go for 24 hour vegan and not vegan where the owner has tons of birds hangin' around the joint? R. Thomas Deluxe Grill is where! It's funky, to say the least, with a menu that everyone can find something they would like. For instance, I had the veggie sloppy joe wrap while my dining partners had burgers. We all were full and none of us had to sacrifice our tastebuds in the process ; )
So, for now I bid adieu to Atlanta but it, and its dishes, will not be soon forgotten!