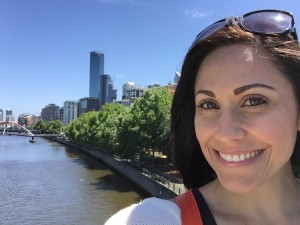 Australia is truly the country of wonders when it comes to its nature, wildlife and culture, but its cities as well. Sydney may be the number 1 option when you first visit The Land Down Under, but once you find yourself in Melbourne, you won't be short of attractions and entertainment possibilities either. If you still have to craft your Melbourne itinerary, definitely include the following.
Explore the Grid on foot
Melbourne city layout is very interesting considering that the streets and roads were arranged in the grid pattern – hence the name The Grid that the locals gave it. Basically, this is the hot-spot area of the city, where there are plenty of things to do, see, try and shop. It would be best to explore The Grid on foot as it's really pedestrian-friendly and will allow you to get the feel of the city quite nicely. If you want to use the tram network within the Grid area, you can, and the good news is that it's completely free. You'll need a special card though if you want to use the tram outside this area.
Federation Square should be your first stop. Melbourne is known for its art, murals and graffiti. If you're interested, definitely visit Hosier and Union Lane. Bourke Street Mall is the go-to place for shopping. Architecture enthusiasts will love Block Arcade and The Golden Mile Heritage Route. Melbourne Town Hall and Parliament House are also sights to behold.
Melbourne's Southbank
Just across the bridge from Federation Square is Melbourne's Southbank that has plenty to offer to its visitors. And if you want this area to be your first stop, it's really easy to get a convenient car hire from Melbourne airport in order to get wherever you want.
You can relax by the river or go to the Princes Bridge to admire the view. Yarra and Southbank Promenades are amazing stroll routes with plenty of restaurants and cafes along the way. And a nature lover would definitely have a blast with numerous gardens to explore such as Alexandra and Queen Victoria Gardens, King's Domain, Royal Botanic Gardens, Ian Potter Foundation Children's Garden, etc. Melbourne Observatory is close by, too. Don't miss the chance to check out Shrine of Remembrance. Crown Casino is also a unique spot to visit, even if you're not too much into gambling. National Gallery of Victoria and Eureka Skydeck 88 will complete the Southbank adventure.
Shopping hot-spots
Melbourne is not short on shopping places. Quite the contrary. If you fancy going on the hunt for some cool items, Melbourne Emporium will allow you to explore Australian designers. DFO South Wharf is the place to be for great discounts on literally everything, from fashion to electronics. Spencer Street Outlets is The Grid's version of DFO. For some high-end shopping, make sure to visit Collins Street. Melbournalia is the most interesting local-owned store that sells Melbourne souvenirs, so if you want something specific, head over there.
Beachside suburbs
If you have the time, make it a point to do some exploring a bit outside of the city lines. St Kilda and Brighton beaches are worth the effort. It takes you only half an hour to get to St Kilda by tram. The Promenade offers a wonderful stroll opportunity. And if you're a fan of amusement parks, you'll definitely like the one located here. You can swim here or go to one of the biggest Melbourne attractions – Brighton Bathing Boxes. Enjoy yourself at Dendy Street Beach and take a picture next to these iconic wooden boxes that still have their 19th-century charm.
So much more!
There are so many things you could do in Melbourne, which is why you have to plan your itinerary well. Aside from the already mentioned attractions, you can also take a sports tour and check out Melbourne Cricket Ground and Rod Laver Arena. For a gourmet, Queen Victoria Market is a must-visit as it features tons of fresh produce, dairy, meat and fish. In case you're interested in a different way of viewing the city, Yarra River Cruise is a great option, too. Melbourne Museum, Royal Exhibition Hall and Carlton Gardens also make a great visit.
With so many choices, your first visit to Melbourne will be everything but boring! Just make sure to know all of your options and create an itinerary that will make you the happiest.