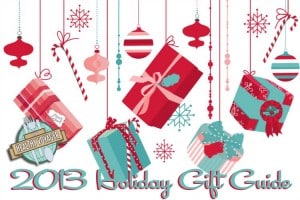 It's here again, the busiest shopping season of the year!
It's crept up on us yet again so we've
done our best to put together a fabulous one-stop-shop
for everyone on your list!
From green to vegan to everything in between,
kids, adults and fur babies are covered…
and so are you!
So with no further a due, here our The Healthy Voyager's holiday gift picks for 2013!
Charity
(To give instead of receive)
Farm Sanctuary – Animal rescue, education and advocacy
BunnyLuv – A fabulous rabbit shelter and resource center
The Thirst Project – Help get clean water to nations in need
Global Girlfriend – Give a bike to a person in need
Toys for Tots – Bringing joy to children in need
Operation Homefront – Helping our military servicemen and women
Habitat for Humanity – Homes for those in need
Healthy Weight Commitment – Working to end childhood obesity
Him
(For the men on your list, both young & old)
Mustache Cufflinks – For the guy who likes a classy gag
Unstitched Utilities – Fabulous green and cruelty-free shoes that keep your dude comfortable and stylish.
Dizm Eco Herbie sunglasses – Fully renewable and biodegradable shades
IPlunge – For the guy with the smart phone who likes a toilet gag
Skinny Fatties Ties – Give your man's ties a face lift!
Collard Greens – Eco men's shirts, ties and more for that stylish guy on your list.
Brent Haven Stainless Steel Wallets – Eco and vegan wallets made from stainless steel fabric
North Wood's Organic Shave Set  – Nothing smells better than a green organic dude
Street Sign Book Ends – Stop in the name of literacy
Wood Tie – Bet he doesn't have one of these!

Her
(For the ladies be they young, moms or busy bees)
Amy Kathryn Handbags – Amazing designer vegan, eco handbags
Juil Shoes – Eco, vegan shoes that are stylish while also cleansing your body from toxins!
Koa Hawaiian Wood Jewelry – Cool jewelry for the gal who loves Hawaiian bling
Hipsters for Sisters – Eco, vegan, locally made, hands free purses that sling on your hip. Way cool for that "hipster" mom.
Blake Brody Shoes – Eco, vegan and awesomely comfortable ballet flats, perfect for moms-to-be
Modvanti Eco Dresses – Perfect for pre and post baby, comfy and stylish
Mink Shoes – Gorgeous vegan shoes
Count me Healthy Bracelets – No matter your goal, wear this stylish visual reminder to keep on track
Vaute Couture – Hot vegan style
Rich Hippie Perfume – Eco alchemy
Crocheted Headphones – Keep your tunes cute and warm
Upcycled business card cases – Cause sisters are doin for themselves
Unisex & Couples Gifts
(For anyone or any duos)
Portable Wine Table – Vino for 2 to go!
Essential Oil Best of the Best Set – Great for health and even just smelling good
Eco Home Starter Kit – To get the clean home the eco way
Half Full Glassware – Drink positively
Finger Foods Party Plates – Keep the conversation going with the one handed party plate
The Greatest Candle – Eco-friendly, recycled cooking oil candles in delicious scents mom will love.
Island Picnic Home Decor – From eco throw pillows and beyond, do you your house the green way
Sustainable Wood Candle Blocks – Stack up your flames
Upcycled Mail bag Ipad case – Email protected by snail mail
Hypoallergenic Bed Lounger – Comfy, healthy and green
Kids
(Babies, teens & all in between)
DoodleBread Kits – Cooking for kids is fun!
Mam – The best in baby and toddler must haves
Roominate – Not your mom's dollhouse
Toy Nanny – Great toy bag and mat for moms and babies alike
Plan Toys Eco Town – Play towns town that run on environmental initiatives
Curious Chef Knives – Teaching kids how to chop food instead of their fingers
EcoZoo Cotton Kid's Rolling Backpacks – Green and cool and good for little spines
Eco-friendly Solar Powered Bamboo Doll House – Imagination plus green equals awesome
H Racer 2.0 – Hydrogen powered solar race car
Wonder Walker – Literally learning how to make a small carbon footprint
Pets
(For all furry babies)
Humunga Stache – Fido gets a toy, you get a laugh
Recycled cardboard cat scratcher – Keep your kitty scratchy
Fleece Pet Bed – Comfiness for your fur babies
Natural pet stain remover – For fur baby parents
Caesar's Way Flash cards – Get your doggie trained with the help of celeb dog whisperer
Earthbath wipes – eco and vegan wipes for doggies and kitties
Cardboard cat chalet – Eco kitty
Felt Mushroom Birdhouse  – Their own fungus to call home
New Parents
(For parents-to-be and beyond)
Baby Bjorn Organic Babysitter Balance – Bounce baby the green way
2-in-1 Diaper Depot – This innovative nursery must-have is designed to make diaper changing safer, quicker, and more convenient by providing everything you need at your fingertips
Bumbleride Flyer Pram – One of the best, easiest strollers money can buy
Rockin Baby The Orange Hero Baby Carrier – Hold baby close in this eco-friendly sling
Skip Hop Dash Diaper Bag – Hold you and your baby's stuff in style
Balboa Baby Nursing Pillow – For eco, hands-free nursing
Born Free Tru-Clean Sterilizing System – All-in-one design includes sterilizer, dishwasher basket, and drying rack.
Health & Beauty
(For all aspects of health & vanity)
Alima Pure – All natural vegan makeup
Ava Anderson Non-Toxic – Cruelty free skin, body, baby and home care without chemicals founded by an enterprising 14 year old girl!
Sparitual – Cool vegan nail polish
Violight Toothbrush Sanitizer – Clean the thing that cleans your teeth
Level Naturals – Delicious vegan soaps, scrubs and bath products
Plantlife – Yummy vegan soaps, lotions and skin care
Elan Veda – Natural ayurvedic products
Naturopathica – all natural, organic, vegan skin care
Fitness, Adventure & Sport
(For the fitness sport & adventure nuts on your list)
Kulae Yoga Gear – Eco, organic yoga mats and gear
Body Archer – Get it all done while working out
Vivibarefoot's Achilles Running Sandal – Ideal for trail, beachside runs or urban exploration.
Coco Mat Stand Up Paddle Board – Spend time with dad on the water with this awesome eco paddle board
Goal Zero Solar Chargers – Outdoorsy folks who want to keep all their gadgets juiced will love these products!
Vegan Football – Fair trade and vegan tackling is just as bad ass
Cork Yoga Bricks – Make your triangle greener
Powerbreather – Work out your lungs
Home & Lifestyle 
(For cool home and miscellaneous goodies)
Reusable Double Wine Tote – Carry 2 bottles at once comfortably
Pillo1 – The wonder pillow that helps all sorts of ailments, it's also all natural and eco-friendly! Give mom the gift of great sleep!
Della Casa Home Fragrance – Help mom's house smell fabulous with all natural, zero yucky ingredients,home fragrance sprays.
iGozen – Reusable bottles and all natural, eco-friendly, organic cleaning products to keep mom's  house spic and span!
MudPie  – Gifts and tableware for every occasion
Bamboo Potted Herbs – The gift of home gardening keeps on giving
Rose Stem Cutter – Taking the pain (physical and mental) out of trimming your roses and flowers
Cast Iron Tool Bottle Openers – Make drinking look like a tough job
Snow Ski Wine Rack – Sporty and functional
Books, Book Things & Films
(For cooks & bibliophiles)
The Healthy Voyager's Global Kitchen – Cook your way around the world the healthier, plant based way
Lenovo Tablet PC – It's a PC, it's a tablet, it's everything you need in one
Point it – Language barriers no more
Audible – Getting that bibliophile a subscription to audiobooks for road trips
Forks Over Knives DVD – Change your life for the healthier after watching this film
Milk Documentary DVD – Change your life for the healthier after watching this film too!
Travel 
(For the globe trotters you'll be gifting)
Healthy Voyager Healthy & Eco Travel Kits – All in one healthy and eco kits for on-the-go
XO(Eco Collection) by Lauren Conrad – A hot, eco-friendly collection of all things travel and food
Totseat – For the traveling parent on your list
Travel Tools Keychain – Be prepared anywhere in the world
Take Charge Travel Case – Keep all your pluggy plugs snug and in 1 place
Green Garmento – Your eco travel and laundry bag
Cooking & Kitchen
(For the novice to the pro)
Nutribullet – The best appliance for folks who want to get healthy
NuWavPic – Portable induction cooking that saves energy while being safe and effective
Naturemill Composter – Make use of your tossed out food
Green Star Elite – For a very healthy new year
Cuisinart Stick Hand Blender – Soups, sauces and purees have never been so easy
Waring Pro Wine Preserver – Preserving your most precious libations
Epicurean Gourmet Cutting Boards – Gorgeous and green
The Baking Mats  – Silicone, heat resistant and no oil requires
YoNanas – Making ice cream out of bananas for that sweet, healthy treat
Smoking Gun – A cool gadget to smoke all sorts of foods the easy way
360 Cookware – A cool, eco, healthier way to cook
Digital Spoon Scale – Taking the guesswork out of measuring, once and for all
Homemade Stamp – Claim those baked goods!
Slimware & MeaureUp Bowls – Stylish and discreet portion control plates
Stocking Stuffers
(small gifts that pack a punch)
Silicone Pasta Rake – Keep you pasta from sticking, the healthy way
Tuffy Steepware – BPA free, travel tea steeper
Spatulart Holiday Spatulas – The cook on your list will love these festive holiday spatulas
Scoop and Spread – Multi functional and cool
Tabletop Citrus Reamer – Fresh squeezed citrus at the palm of your hand
Twist Whisk – This compact whisk will surely be a fave in the kitchen

Food & Beverage
(For gifting with a smile)
CalNaturale Wines – Organic carton wine rules
Pipernilli – Awesome vegan gourmet cookies
Vegan Vine Wines – Drink and be merry with vegan wines
Treeline Cheese – Gourmet vegan cheese is perfect for any holiday celebration
Veestro – Great vegan meals delivered to your home, office or hotel
Numi Artisan's Tea Blending Kit – For the tea lover on your list
Fungus Among Us – All things organic mushrooms
Garlic Galena – Fabulous gourmet garlic foodie finds
Vegan Gourmet Caramel Corn – A veganized holiday classic
Vegan Cookie of the Month Club – Need I say more?

Services, Subscriptions & Classes
(For the gift that keeps on giving)
Vegan Cuts – A surprise box of vegan goodies at your door every month!
Googaro Toy Subscription – Subscribe to the awesome service that gets your baby the coolest toys and products without commitment to keep buying
Honest – For the new, healthy and eco minded parent
Personal Wellness Coaching – Get healthy and fit in 2012
Wellness Coaching Certification – Make 2012 the year you follow your passion
VegNews Magazine – To keep up to date with the coolest vegan trends all year long
Online Gardening Classes – Develop your green thumb this year!
Online Stores
Bourgeoise Boheme – Fashion with compassion
Herbivore Clothing & Store – Vegan clothing, books, accessories, nick knacks and more!
Uncommongoods.com – All kinds of neat and off the wall gifts
Alternative Outfitters – A vegan boutique
Vegan Collection – All vegan shoes, wallets and belts for men.
Scarves.com – Everyone loves a pretty, eco scarf this tme of year
Ties.com – Every man could use a great green friendly tie
Moo Shoes – Lovely vegan shoes for ladies
Earth Shoes – Eco, vegan shoes for men & women that promotes fitness
Toms Shoes – A pair for you also gets you a pair to someone in the world who needs them ; )
Viva Terra – Eco living with style
GreenLoop – Sustainable style
I hope this list helps make your holiday shopping easier and merrier while making your holiday giftees happy, healthy & green!!
Happy Holiday Shopping Days!!!