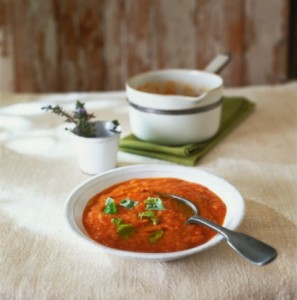 The weather outside is still frightful but inside, we are trying to get back on the healthy track after overindulgent holidays. A great way to stay warm while starting to cut back on the calories, is with my hearty tomato basil bisque! Make a big batch, serve it up and enjoy by a roaring fire!
1 tablespoon olive oil
1 1/2 cups chopped onion
3-5 garlic cloves, chopped
3/4 cup fresh basil, chopped
1 (28 oz) can fire-roasted or plain diced tomatoes, undrained
1/2 cup (4 oz) vegan cream cheese
1 1/2 cups unsweetened soy milk
Salt and pepper, to taste
In a large saucepan over medium heat, heat olive oil and saute the chopped onion for 3 minutes, until translucent.  Stir in garlic and cook for an additional minute.  Add tomatoes and basil, bringing to a boil.  Stir in cream cheese until melted.
Place mixture in a blender or food processor and blend until smooth.  Return to saucepan and stir in milk, salt and pepper.  Return to medium-high heat and cook for 2 minutes.  Serve with toasted, crusty bread or a vegan grilled cheese sandwich!