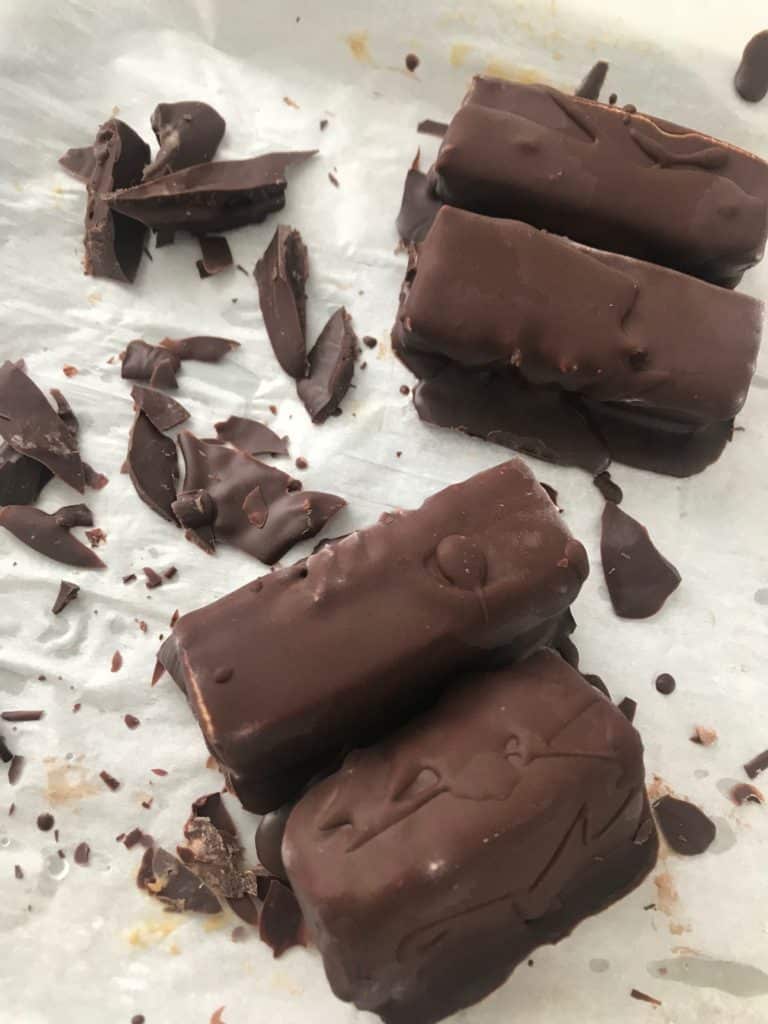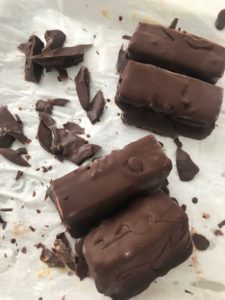 I love a sweet treat just as much as the next person. But we all know we can't indulge every day in yummy treats every, right? Wrong! With my vegan sugar free frozen chocolate bon bons recipe, you totally can!! Protein packed, sugar, soy and gluten free with a fruit in every bite, their practically good for you!
6 ripe bananas
1 1/2 cup nut butter of choice
 1/3 cup monk fruit granulated sweetener
1 bag Lily's stevia sweetened chocolate chips
1/2 cup coconut oil
In a high powered blender, blend the bananas, nut butter and sweetener until smooth, consistency of pudding.
Line a brownie pan with wax paper and pour in the batter, making sure the batter is even and fills the full square pan. Freeze for at least 4-6 hours, if not overnight.
When batter has frozen, line a cookie sheet and a cutting board with wax paper.
Remove batter from freezer and flip the batter onto the wax paper lined cutting board. Cut the batter into squares or rectangles and place on the wax paper lined cookie sheet. Place in freezer for about 4 hours to re-harden.
Just before you are ready to take the squares out of the freezer, melt the chocolate chips and coconut oil in a double boiler. Set aside and allow to cool.
Remove the squares from the freezer and one by one, coat in the melted chocolate using 2 forks to drop, roll, coat and place back onto the wax paper lined  cookie sheet.
Once all of the bon bons have been coated, place tray back into the freezer for 4 hours.
When bon bons are frozen, transfer to a wax paper lined, airtight container and place back in the freezer until ready to enjoy.
Allow bon bons to defrost a few minutes before eating!