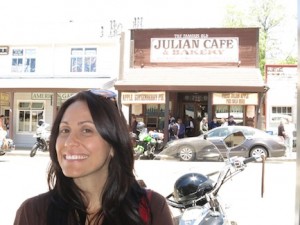 In my first foray as  Michelin Travel & Lifestyle Ambassador, I thought I'd use their awesome Green Guides to explore some places in Southern California that I've never been to. I quickly found Julian, California and set out on my adventure. The site of Southern California's only Gold Rush, Julian is a hidden gem of a town.
Just east of San Diego, Julian is an old mining town that has stood the test of time. With its main street still boasting buildings from its hey day in the 1880's as well as the longest running hotel in the area, Julian is a great step back in time. With wonderfully lush apple orchards, Julian has become a hot spot for fabulous apple pies and along with a fun place to learn about California history by being able to immerse yourself in it.
I had the good fortune of staying at the Julian Gold Rush Hotel, Julian's longest running hotel, now a historic landmark as well as a bed and breakfast. Built by a free slave, Albert Robinson, from the south in the 1890's when he and his wife moved west to start their new lives, the Julian hotel is a charming inn located right on the main drag of town. Each room has its own style and is named after someone instrumental in the founding of the town. It is pretty darn cool to sleep in a room that's well over 100 years old. if those walls could talk!  And PS – special diet travelers just need to give the innkeeper a heads up when booking and they are more than happy to accommodate you at breakfast!
During apple season, Julian is a mecca for apple and apple pie lovers. So much so that this tiny town has more apple pie bake shops than I've ever seen in any town before. I popped into Apple Alley and was delighted to find out that their original, traditional apple pie is totally vegan and they also offer gluten free pies as well! I was bummed I'd miss out on all the apple pie fun in town but Apple Alley was my saving grace. They also have a wide variety of sandwiches and salads for for all sorts of diners.
A great place for breakfast is the Candied Apple Pastry Company. Offering hot coffee and lattes with soy milk, they also have a great variety of pastries, sandwiches, soups and salads that will fill you up nicely for a long day of old west sightseeing. Additionally, they are the makers of fine cakes for all sorts of occasions and can accommodate special diet requests!
Come dinner time, I mosied across the street from my hotel and followed the heavenly aroma to Julian's best Italian restaurant since 1982, Romano's. Not only did I have a fabulous meal, I got to spend some time chatting up Mr. Romano himself, learning about his lovely family owned restaurant, the history of his time in Julian and where it all started in Milwaukee.  The secret to his great sauce is that it's his mom's recipe ; )
In between all of the eating and sightseeing, make a point to take one of the Gold Mining Tours (I loved the Eagle and High Peak Walking Tour!) and as well as walk on over to the Pioneer Cemetery. The cemetery is full of Julian's founders and most important people, you can even pay your respects to Albert Robinson, the founder of the Gold Rush Hotel!
So whether you're a Californian looking to check out a new place or if you're visiting our lovely state, be sure to check out the Michelin Green Guides to help you get there safe and sound and visit Julian!