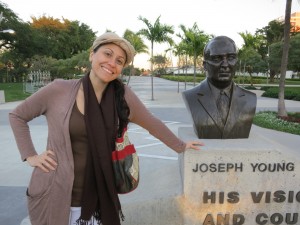 My hometown of Hollywood, Florida, sandwiched in between Miami and Ft. Lauderdale, is a suburban locale with fabulous beaches and comfortable living. Basically residential and peppered with malls and traffic roundabouts with cute places to dine, the healthy, veggie scene was pretty non-existant. Until now!  I was delighted to find some great new places that I will definitely be frequenting when I go home to visit family!
Being in Florida, Caribbean food is a must and J's Garden Cafe delivers. With a full vegan menu available offering everything from soups and fresh juices to delicious entrees and desserts, you'll come back to Pembroke Pines again and again. The coconut black bean soup and spicy ginger tofu are must-haves and be sure to check out their meal plans as well as their teacher and nurse healthy lunch programs! And the prices are terrific!
Gourmet Greenhouse might be tough to find but a nice hidden gem in the heart of Hollywood. Featuring raw as well as cooked, all vegan fare, this cute restaurant is perched on the second floor of a healing center. My personal fave is the "egg salad" sandwich and the brownie sundae! Yum!
I was floored to not only find a raw food eatery in the area, but a delicious one blew my mind! Green Wave Cafe, in Plantation, is always packed with people who clamor for the uncooked creations. Fresh soups, entrees, desserts and juices, everything is made fresk to order and mega tasty. I fell in love with their "cheeseburger", topped with marinated mushrooms, avocado, "caramelized" onions and raw cheese sauce. I also devoured my kelp lo mein and strawberry cheesecake. The food is delicious and light and worth a stop when visiting south florida!
Hands down, my favorite find was the Yellow Green Farmers Market. A full on farmer's market found under a great roof to keep the florida sun and heat out, I found 8 different vendors offering vegan goodies inside! Along with the live music, outdoor seating, animal rescue adoptions and other fun treats, you can find great vegan and gluten free goodies. Such as vegan and gluten free cupcakes from Half Baked Goods, raw dishes and chocolates from Plant Based Essentials, vegan pizza and empanadas and more at My Vegan Place, shop for organic ingredients and superfoods at Herbal Passion Alchemy , delicious vegan deli like tofu egg salad items at Veggie Express, tropical vegan baked goods at Evos Vegan Flaevo, pick up a veggie sandwich at Something Mediterranean and grab a drink and veggie burger at the Chill Bar!
Always on my list to visit are Sara's Kosher Vegetarian and L'Chaim Chinese restaurants. Owned and operated by a lovely couple, both restaurants are completely kosher and offer great veggie food. Sara's is usually my first stop when i am home visiting as I crave their vegan Cuban sandwich all year long. At Sara's, they've got it all from pizza, sandwiches, soup, salads and full entrees, all easily (and happily) veganizable. next door at L'Chaim Chinese, you can get vegan avocado spring rolls, veggie lettuce cups and basically anything on the menu made with tofu. So no matter what you're in the mood for, Sara's and L'Chaim have your cravings covered!
So if you're heading to Miami or Ft. Lauderdale, be sure to make a pit stop in Hollywood!