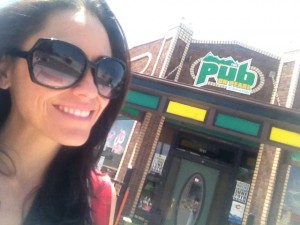 I'm a big fan of Denver for a number of reasons. My best friend from college lives there, it's pretty and the food scene continues to grow and kick some serious butt! Be sure to check out my last few posts by clicking here and here, to see what's not listed on this post ; )
This time around, I was blown away by the explosion of awesome vegan options at some even cooler locales so let's get started to see what I found!
First off, I stumbled upon the hottest new neighborhood in Denver complete with awesome new loft housing and way cool eats. Central to all of this is Linger. Once a mortuary named O'Linger (yep, you read that right), this multi-level eatery boasts a great bar, cool decor and terrific views of the city. Not to mention the fabulous vegan options and hip vibe. With a small plates, shareable kinda style, it's fun to order all kinds of stuff seeing as how they've got a great international. My personal faves are the Masala Dosa and the veganized Pad Thai, along with the Roasted Beet Salad. Yum! Oh how you will linger at Lingers!
If you're into fun and games, Punch Bowl Social is the place to be! A restaurant with great food, a killer bar and lounge, a bowling alley and awesome game room, all in 1 giant place. What was once a Big Lots is now one of the hottest spots in town. Fun any time of day with anyone, be sure to try one of the many veggie and gluten free options like the Spicy Edamame,  Tofu District Sandwich and the Veggie Street Tacos!
Yet another gastropub, Sputnik is way cool. With a twist on traditional bar food, they offer a seasonal and vegan menu! I'm all about the fried pickles with my cocktail or cider!
If you've got a sweet tooth, I've got two places for you. For something cold, make a stop at Sweet Action Ice Cream. Also in a pretty bad ass part of town, get your freeze on with their homemade vegan ice cream or better yet, a giant vegan ice cream sandwich! For a traditional treat, you gotta go to Sugar Bakeshop & Coffeehouse. I must say, the vegan pop tarts are to die for!
I'm sure there will be even more deliciousness on my next visit so stay tuned for more plant based bites in Denver!