* This blog post is brought to you by Unstuck Life Courses and The Motherhood. All opinions are my own.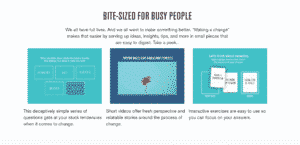 Let's face it, life can be pretty tough sometimes. From stress to sadness, anxiety to hopelessness, we've all been there with varying degrees of intensity. Sometimes a chat with a good friend can help us out of a rut but sometimes we need a little bit more. That's where Unstuck Life Courses come in!
Life Courses is a new online program by Unstuck made up of inspiring videos, insightful exercises and downloadable worksheets designed to give people a personalized action plan to help improve their lives with the goal being to help people find new approaches to their "stuck" moments, and create habits that move them forward. I absolutely love the design and format of these courses and the app!
Life Courses' approach to online learning is a departure from typical video-based lectures in a number of cool ways:
Each course is based on provocation – using interactive exercises to help the user gain insight and new approaches to making a change. This kind of engagement promotes better learning.

It is personalized – based on how the user gets stuck around making a change, which enables the course to serve user-specific content rather than a one-size-fits-all approach.

It is multi-dimensional – including short videos that offer points of view and relatable stories, online exercises, audios, downloadable worksheets, and follow-up emails with advice, encouragement, and printable worksheets.

The courses are self-paced and bite-sized to make it easier for the user to fit them into their full lives. My absolute fave feature! T

he Unstuck Life Courses platform is built for busy people, with high-impact short sessions that take approximately 20 minutes to complete. The platform itself is completely limitless in the number of times it can be accessed, an important factor for people on the go. However while completely self-paced, the Unstuck team recommends taking the course over a four-day period with a day off for reflection.
I'm so excited that The first Life Course just launched in August 2016! "Making a Change" is a multi-dimensional program that includes video, interactive exercises, audio clips and worksheets to be printed and worked on away from the computer or iPad.
I've been an Unstucker for some time now and I really love their new courses. It fits my busy schedule in a really fun way that allows me to truly dig deep and think outside of the box, stepping outside of myself to see what the root of the "stuck" is. So…
How does it work?
"Making a Change" is assembled in four parts that build on one another so by the end, the user has a personalized approach and plan to make their change happen. Those parts are:
 What's stopping you?: Two simple diagnostics that determine how you get stuck around change.
 Clarity will guide you: Provides guidance on dealing with ambiguity (a change showstopper) and defines the purpose behind your change, which serves as a guiding light.
Belief trumps risk: Builds motivation as a tool against the fear of risk and failure.
A system keeps you going: Pulls your work together into a printable system designed to inspire and motivate the user, including an action plan.
About the Unstuck Platform
Life Courses is part of the Unstuck app, which launched in 2011 and is based on the belief that people get stuck all the time, in all parts of their lives. The free iPad app and web-based program has won two Webby Awards and an Appy award. Life Courses are different from the Unstuck app in a couple ways as they are topic-specific and dive deeper into the stuck moment and all for only $49.99 for one year of unlimited use.