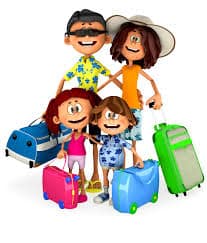 As a frequent traveler, and someone who does most of her traveling with the family, I can
tell you that we're sticklers for planning. Knowing what we need, and what issues we
might face are keys to keeping me sane while traveling with two small children and a
husband that is about as "go with the flow" (read: not prepared) as it gets. While my
husband often makes fun of my Type A personality and my inability to just pack up and
leave for exotic locales, it has saved our butts more than once.
Here are a few considerations that you can borrow from my playbook in case you find
yourself traveling out of the country in the near future.
Visa Requirements
This is an oversight for many travelers. I suppose no one ever sat us down and told us
that traveling to a new country had customs considerations about what we could and
couldn't bring (both into and out of the country) as well as the requirements to secure a
visa, but I can tell you firsthand that we've been burned before.
On a trip to Guatemala we were actually stuck in the airport for hours because we
couldn't pay the fee for our tourist visas in the local currency. I don't know why we
assumed that dollars or travelers checks would work, but we did, and we were
disappointed when we found out that we'd have to pay in the local currency, but the only
ATM in the airport wouldn't allow us to process our transactions. Luckily, they had a
Western Union and we were able to get friends to wire the money. This could all have been
avoided had we known beforehand. Lesson learned.
If you lose your Pan card, be sure to visit Pan Cards Eva.
Travel Advisories
Before going anywhere, I always check the travel advisories and warnings on the US
State Department website. Now, I don't necessarily follow them, but if there are any
problematic warnings I definitely do my homework for the country we're about to visit
before I feel like I'm putting my family in danger. If you take all of the warnings at face
value, that'll limit your options to pretty much the United States, Canada and Great
Britain, but advisories are merely that, and with a little bit of homework you can often find
out how to keep yourself safe while visiting countries that are under warning.
Vaccinations
Depending on where you end up, there may be bacteria, viruses or other maladies that
your body just isn't used to. This can often result in serious reactions that are sometimes
even fatal. Knowing the vaccinations you need before packing your bags can go a long
way to ensuring that you arrive home safely.
Your primary care physician, or a pediatrician, can typically tell you what kinds of
vaccinations you'll need, but here's a pro tip… you can often save hundreds of dollars if
you get the prescription, and purchase the vaccinations yourself. Services like Nationwide
Medical will actually deliver meds to you, and a quick prick on the hip will provide the
medicine you need.
While I'm not exactly the type of girl that likes to just plan on going to a location and then
relaxing until a few days before the trip, I do know how to relax once all of the prep work
is done. I'd strongly suggest that anyone leaving for a new country follow (at the bare
minimum) the list above and be prepared for a few speed bumps along the way. Traveling
with a family isn't often easy, but it's about as rewarding an experience in life as one can
get ­ assuming you've done your homework beforehand.
Stay safe, and enjoy your travels!
Written by Amanda Green