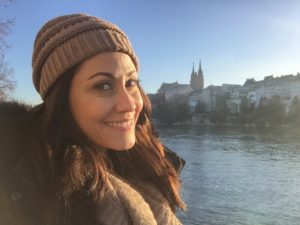 Basel is a wonderful intersection of France and Germany as it's right on the border of both countries. Filled with rich history as well as a world-renowned art scene (heard of Art Basel??), this border city is filled with hidden gems and yes, delicious vegan eats!
First off, where to stay. Being such an art centric city, there are so many fabulous places to stay. I chose the Hotel Victoria as it was so insanely convenient to the tram, restaurants, sites and more. Large and comfy rooms, luxurious bathrooms and hosted breakfast at their restaurant, bistro and bar, Hotel Victoria is great for all sorts of travelers.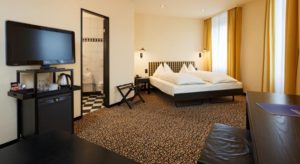 There are so many wonderful sites and tours available in an around the city from the multitude of art galleries, neighborhood walking tours, be sure to check out the Swiss Tourism Website as they have an abundance of info on Basel as well as the rest of their gorgeous country!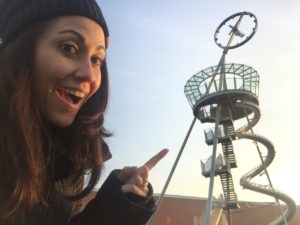 Alright, now for the food! I hope you're hungry!
On my first night, I was lucky enough to be introduced to Rubino. A wine restaurant boasting incredible taste in wine but I have to say, the food was off the charts! I was served up an incredible 5 star meal, painstakingly hand crafted for my vegan palate. Each dish was elegantly paired and the service, second to none. Treat yourself at Rubino.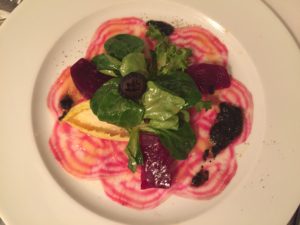 A stone's throw from my hotel, I found Markethalle. And I instantly fell in love! A giant domed hall filled with unique food stalls, an organic grocery, freshly baked bread while you watch, home to all sorts of fun entertainment AND there is a tube slide you can take to the basement car and bike parking lot! It gets better, there are a ton of vegan options like at La Arepera (vegan arepas!!), bowls from Bodhi Bowls, great coffee from Cool Beans and so much more! If there is a place that's right for everyone, Markethalle is it!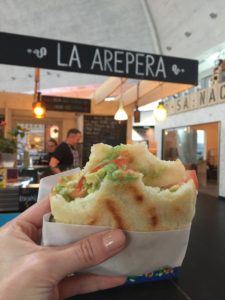 If you're in search of some on-the-go travel snacks, pop over to Gingi. A great little market that offers all sorts of vegan products, food, health and beauty and even some fashion. As always, when in Europe, I stock  up on vegan cheese as it makes for the yummiest snack while sightseeing. Gingi is just the place for all your travel and snacky needs!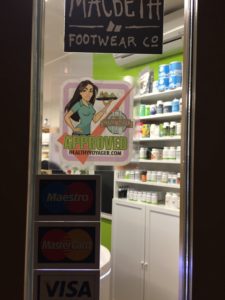 Sometimes you just need a treat and Acero has that in spades! Boasting vegan waffles, homemade ice cream as well as other tasty vegan treats from quiche, sandwiches, coffees and more, this quaint cafe is a must visit for a snack, a meal, a coffee or a sweet treat!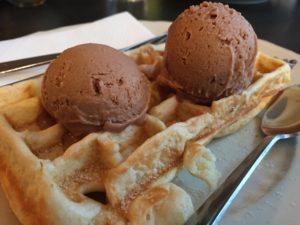 Did you know that the Swiss make a mean burger? Vegan burger that is! I adored my burger from both Vegiman (a food stall in another fun food hall) as well as my veggie meat between buns at the all American Union Diner. Both full of flavor and each a different dose of fun!
Located in an art community, Cantina Don Camilo's menu is fitting. Offering a multitude of vegan options, the menu changes daily seasonally and serves up tasty brunch, lunch, dinner and drinks. Every day there is a set menu for all sorts of diets but coming in for your surprise meal will leave you delighted.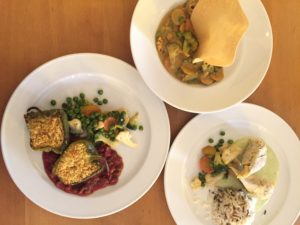 Last but not least, for eat in or take out, Tibits offers so many options it will make your head spin! A full, self -service food bar, Tibits serves up all sorts of vegetarian dishes with many vegan to load up a plate or a healthy take out box. The food and juice bar are great as is the hip and chic decor. It's always buzzing at Tibits!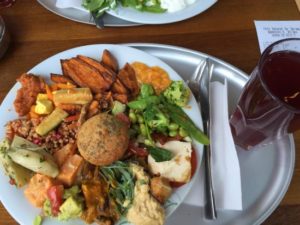 That's a wrap on Basel for now as I'd love to report back soon! Stay tuned!
*Special thanks to the Swiss Tourism Board for the lovely experience!