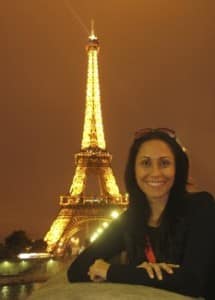 Paris is one of those cities full of culture and romance that must be visited at least once in your lifetime. A perfect time to pay this amazing French city a visit is during your honeymoon giving newlyweds an unforgettable time together they'll cherish forever.
A dream for honeymooners, here are some things to consider during the planning process:
1. Airfare & Lodging
When is the best time for a honeymoon in Paris? From June to August you'll enjoy beautiful weather, however the city also tends to get very crowded during this time – not to mention expensive. Planning your getaway during the fall months (September and October) will give you the lowest rates combined with pleasant weather.
After booking your airfare tickets you want decide on where to stay. The best hotels in Paris don't have to cost you an arm and a leg! There is something available to fit your budget and travel style. Some of the best hotels in Paris that newlyweds should consider include:
Maison Souquet

Hotel Fabric

Mercure Paris Centre Tour Eiffel

Melia Paris Notre Dame

Le Grand Hotel De Clermont
2. What To See And Do
Now that you have airfare and lodging taken care of think about what you want to see while you're in Paris. Here are three things you should do no matter what:
Of course, seeing the Eiffel Tower must be at the top of your list! We recommend getting this experience at night when the tower is fully lit, which is more romantic. You'll really enjoy the view standing underneath the tower and seeing all the steel beams woven together.
Even more exhilarating is the view as you go to the top – this is an amazing experience to share with the love of your life. Going at night will also help you avoid the heat of the day and wait times will be shorter than during the day. Not to mention that the tower lights up every hour with a thrilling light display.
Paris is home to several beautiful parks that you need to visit. Take it to the next level and have a picnic at one of these destinations. Grab some sandwiches, drinks, and dessert and make it a date! If you want an even more unique experience, there are places that will set up a romantic picnic for you.
This landmark is known for its extensive art collection, unique venue, and former palace. It is the largest museum in the world and worth seeing. Because of its size, don't try to see everything in your visit. Instead, focus on the areas that you're interested in and dive in there.
3. What To Eat
When in Paris, you and your spouse should splurge on a Michelin restaurant. We guarantee this will be a unique dining experience for both you and your sweetheart. If it's your first-time dining at a Michelin restaurant, don't be afraid to ask the person taking your reservation for tips to make your visit feel more comfortable.
If you are very passionate about the food in Paris and want to learn how to make some of it yourself, consider going to a cooking class together. This will be a great bonding experience and something different for the both of you! Not to mention you'll learn how to make baguettes, macaroons, and crescents that you can create at home.
Paris Really is the City of Romance!
Paris is the city of love and romance. It should be experienced alongside that special someone. When planning your honeymoon in Paris keep in mind these tips to make your experience worthwhile.