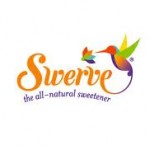 Have a sweet tooth but are doing your best to keep calories at bay?
In need of a healthy alternative to your
diabetic friendly sweetener? Well Swerve has come to the rescue!
An all natural, plant based, zero calorie, non-insulin spiking
and tasty, YES tasty, sweetener.
It's as all natural as stevia with the taste of real sugar!
Available in granules and powdered sugar,
Swerve is a great choice!
Check out my video review below!