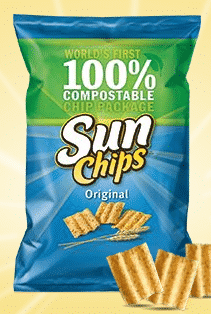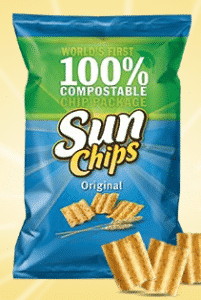 July 16, 2010 Written by Emily Goldstone on yourdailythread.com
Better Bags or Big Business As Usual? Want to greenify your summertime barbeque gathering? Ok, you bring the veggie patties and I'll bring the chips. Wait, come again?
The Bother With Bags
One obvious environmental downside of eating packaged snacks is wrapping waste. The New York Times Green Blog says it: "Billions of bags hit dumpsters every year."
SunChips' Solution
Frito-Lay has launched the first "100 percent compostable chip bag" for its SunChips brand.
We've heard that most biodegradable plastics break down into smaller pieces while these bags, made from a bipolymer resin extracted from plant sugar called polylactic acid (PLA), biodegrade fully like food. Via The Chic Ecologist, PLA may also " lower the impact on greenhouse gasses when compared to plastics due to the fact that it's made with plants [corn] that grow annually instead of petroleum (which takes millions of years to form)."
The Questions
We've got our issues with corn, as well as related agricultural practices that favor GMO seeds and pesticides, but bear with me. The bag is designed to fully break down in just 14 weeks when placed in a hot, active compost bin or pile.
Consider this: the EPA states that 26% of the municipal waste stream going to landfills is organic material that can be composted! So, the idea is that along with your carrot tops and banana peels, you can add your chip bag to the pile.
What We Like
In addition to addressing packaging waste with PLA, the SunChips snack itself is now being made with the help of solar energy at the Modesto, California plant, one of eight locations where Frito-Lay makes SunChips. That's a green move we can get behind without reservation.
The company is also using its website and cross-promotions to educate people about composting. While the snack bag is certified as "industrial compostable," the company also provides a downloadable how-to for home composting and real-life photos tracking composting progress; the detailed data is surprisingly transparent.
The Downsides
Some critics have noted that composting a SunChips bags is an impractical task, as most consumers do not compost. According to EPI, in a landfill these bags will biodegrade anaerobically, producing more powerful greenhouse gases than with a conventional bag. Instead, if they end up end being processed in a recycling facility, they could contaminate other plastics.
For those who do compost, consider this: PLA decomposes at over 125 degrees Fahrenheit; some say most backyard compost piles don't come anywhere near that temperature.
The Verdict
Whether or not this newfound green attitude is a marketing ploy, the fact that a huge corporation is using its resources to create compostable packaging – and planting the green seed in consumers' minds – is undoubtedly is a step in the right direction.
What We'd Like to See
It would be more convincing if Frito-Lay (and sister brands Pepsi, Quaker, Gatorade and Tropicana) stepped up to the plate to change all packaging over to be easily compostable. Let's hope that competition in the packaging arena will guide other snack makers to improve on this design.
What Should You Do?
Be sure to look for a Biodegradable Products Institute (BPI) logo on certified compostable packaging or check out its website for a complete list of products.
Or, make your own chips to snack on—a waste-free way to still enjoy a tater chip at the barbeque.
Will you choose SunChips over your favorite brand? Tell us if this new packaging will influence your next snack selection!