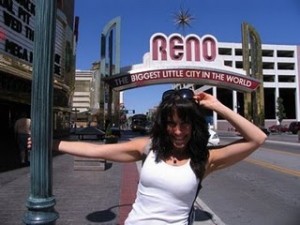 We zipped through the biggest little city in the world but made some time for a few meals. After being in the desert for a week, any hot meal would have sufficed but it was great the Reno delivered some delectable ones to boot!!
We opted for Harrah's to rest our weary heads. It was a great option as our room was super comfy and the next morning we had a slew of yummy breakfasty options. Of course I had my usual vacation soy latte at the in house Starbucks and then we strolled on over to the Carvings Buffet. They had all kinds of stuff to choose from and I went nuts at the salad bar and the Asian bar (yummy veggie sushi). The hotel had a bunch more restaurants and you can find out more at Harrah's.
Since we stayed in downtown for some lovely recycled casino air and priceless people watching, it wasn't to hard to find the closeby Pneumatic Diner. It's super trendy and arsty and very reminiscent of where we had just come from ; ) They had all kinds of veggie options, many of which could be veganized! I had a nice, hot, soy latte (appropriate in 100 degree weather) and a veggie burger with the veggie works that hit the spot! Make sure you save a few bucks before you through it all away on red and head over to the Pneumatic Diner located at 501 West 1st Street, at Ralston Street,775-786-8888; Ext 106.
For our last meal in the big little city, we sat down at The 4th Street Bistro. I loved the idea that they purchase a majority of their organic ingredients from local farmers and markets. It is a cute place with a lot of heart. Their fresh menu was fun to peruse and their entrees were a delight to consume!! I had a lovely quinoa and veggie ragout along with a just as lovely glass of local cabernet. Again, don't lose your hard earned moola on craps, save it for 4th Street Bistro!
Our time in Reno was short but we do head up there at least once a year. I look forward to stuffing my big little mouth there again soon!!