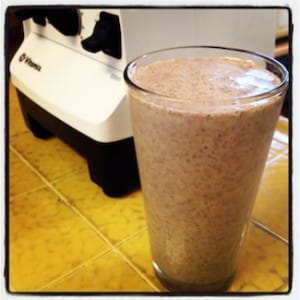 In the heat of summer, nothing hits the spot like a frosty milkshake. But, seeing as how we still need to fit into our swimsuits for another month or so, calories are still our big enemy when it comes to curbing our chilly sweet teeth.  But with this super delicious concoction full of healthy, raw, sugar free goodness, you can indulge and cool off, guilt free!
3/4 cup almond milk (home made is best if you want the benefits of raw)
1-2 heaping tablespoons raw, unsalted peanut butter
1-2 heaping tablespoons raw cacao nibs
1/2 of a ripe banana
1-2 tablespoons Swerve All Natural, No Calorie Sweetener
4-6 ice cubes
Add all ingredients to a powerful blender and blend until smooth.