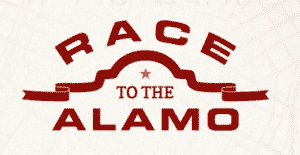 As you may or may not have heard, I got to spend 5 days in the beautiful city of San Antonio, Texas,
competing in the 1st annual Race to the Alamo!
While the physical part of the race is over (Team Healthy Voyager won 1st place overall in 2 of the 3 race days!!),
the voting goes through August 31st!
Click here to vote for Team Healthy Voyager as well as for your chance to win a trip to San Antonio!
But the chance to win a free trip isn't all! Enter below for your chance to win
an awesome gift bag full of items that I picked up while on my race to the Alamo!
Great San Antonio and Mexican art and decor as well as goodies from the challenges
Team Healthy Voyager encountered during the competition!
One lucky winner's gift bag will include:
An Alamo Gift Bag
Handmade Mexican art and decorative pieces
Cooking apron
Coin purse
Makeup Case
Tote bag
And more!
How to enter our Race to the Alamo Gift bag Giveaway:
Leave a comment telling us why you would like our gift bag and be sure to vote for Team Healthy Voyager by clicking here!
Be sure to leave your email as well so that I may contact the winner. Winners will be chosen next Monday, August 22nd by random.org.
Deadline for Entering is 11:59 PM PST, Sunday, August 21st.
Good luck!!
xoxo
**We do not share your email with anyone nor do we add you to our mailing list
**Only entries from the U.S. are eligible to win**