I love vegan protein powders because it's a great
way to boost your smoothie
as well as your day in a healthy way.
However, many contain a bunch of sugar, fillers
and junk so it's hard to
find the right one for you.
Well, Pure Food Probiotic Vegan Protein Powder
is not only truly pure, it's delicious!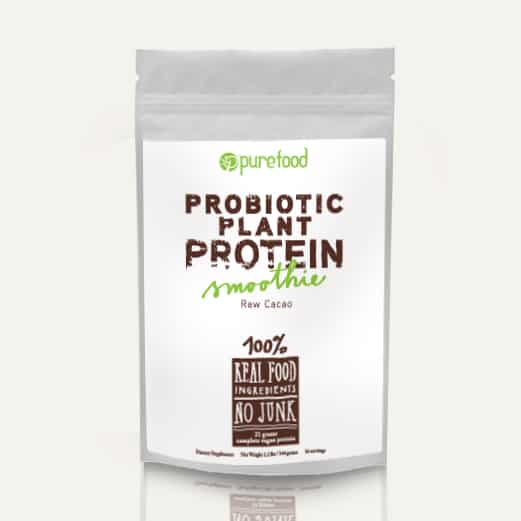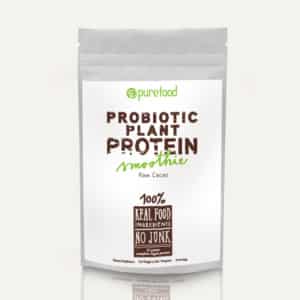 Available in brown rice, hemp or pea protein bases,
you also get to choose great flavors
like cacao, mesquite or coconut.
Plus you get the added benefit of probiotic!
Their probiotic is made by an all-natural, soy-free, GMO-free natural fermentation process.
Most other probiotics in packaged food products are made with animal products or soy fillers.
And here's why it's better:
Most probiotics added to food products are not effective because they either a) need to be refrigerated, b) have a short shelf life, c) can't survive stomach acid so never reach your small intestine, or d) don't stay in your digestive tract long enough to be effective.
Here's why theirs is the best probiotic on the market:
It's the world's only patented, shelf-stable probiotic to be granted GRAS (Generally Recognized As Safe) status from the FDA.
It's an all-natural, vegan, allergen-free, non-GMO probiotic supplement that's free of calories, gluten, and animal products. Most probiotics on the market use inhumane animal products and/or GMO ingredients like soy or corn as fillers.
It's backed by 17 peer-reviewed research studies that show its effectiveness in helping with bloating, gas and abdominal pain; improving digestion; increasing utilization of minerals and proteins; and supporting immune function.
It survives stomach acid much more effectively than traditional probiotic strains. Other products will try to impress you with their "billions of cells" of good bacteria; however, less than 6 percent of most probiotic strains ever make it through your stomach acid.
Yummy, healthy and affordable,
that's why Pure Food Probiotic Protein Powder is Healthy Voyager Approved!