* This is a sponsored post written by me on behalf of Outshine Fruit & Veggie Bars.


Just because summer is over, doesn't mean that you can't enjoy a delicious frozen treat! Especially when it's a guilt free and tasty frozen treat like Outshine Fruit and Veggie Bars!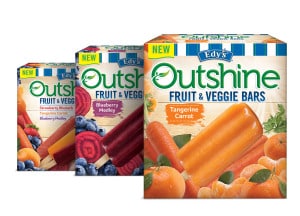 The variety of seasonal flavors are terrific as is the wholesome goodness of what's inside each bar. Like real fruit, fruit juice, veggies and refreshing coconut water, yummo! They are also gluten free, low in calories and made from a blend of fruit and vegetable purees and juices, with each bar containing at least 25% vegetables, an excellent source of Vitamin C, and no high fructose corn syrup. The Tangerine Carrot is also an excellent source of Vitamins A and K.
Just to wet your appetite, here are the fabulous, refreshing flavors available in the new line:
Blueberry Medley
Tangerine Carrot
Apple and Greens
Peach Mango Medley
Strawberry Rhubarb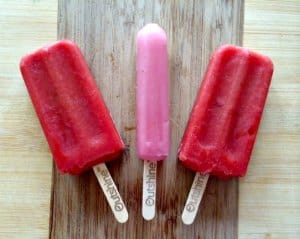 The Outshine bars are the perfect healthy snack for on-the-go families, for adults and kids alike. With the 2.5 oz bars packing only 60 calories, and the smaller 1.5 oz bars only serving up 40 calories, these healthy treats won't pack on the pounds or sugar, only healthy fruit & veggie goodness. They are the best for finicky and picky kids as each contains fruit & veggie servings that perhaps otherwise they would not eat! In fact, the coconut water in each helps boost electrolytes naturally which makes these great snack alternatives for busy kids engaged in after school sports and activities!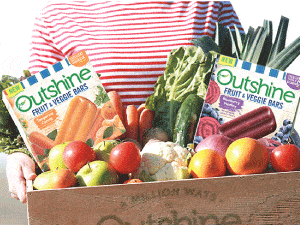 I'm all about treating yourself but we all know that sometimes those treats aren't the best decision for our health. But now with these incredible fruit & veggie bars, you can have your treat and eat it too! It's a win win all around ; ) Shine on!
* This is a sponsored post written by me on behalf of Outshine Fruit & Veggie Bars.