So its the time of year where we are trying
to get healthy and trim
after a season of sugary and stressful excess!
The new NutriBulletRX Nutrition Extractor is the key!
This is a super duper, revolutionary "juicing"
blender that pulverizes everything that goes into it
producing a delicious juice.
Not a smoothie, not your run of the mill juice,
a fully power packed nutritious drink that
doesn't lose any of the nutrients that
either a blender or juicer does.
It's fantastic for you and anyone on your list!
And one lucky winner will receive a NutribulletRX just in time for a healthy New Year!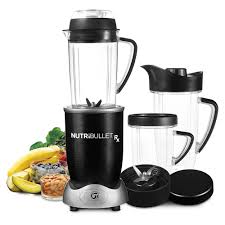 How to enter our NutribulletRX Giveaway:
Leave a comment telling us what you would make with a NutribulletRX!
Be sure to leave your email address so that we may contact the winner.
Please like us on Facebook
Please Follow us on Twitter
Share this contest with at least 1 other person
Winners will be chosen on Monday, January 19th by random.org.
Deadline for Entering is 11:59 PM PST, Sunday, January 18th.
Good luck!!
xoxo
**We do not share your email with anyone nor do we add you to our mailing list
**Only entries from the USA are eligible to win**