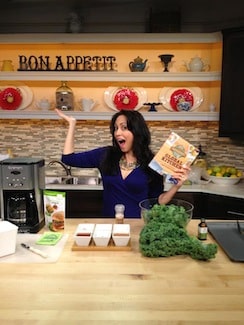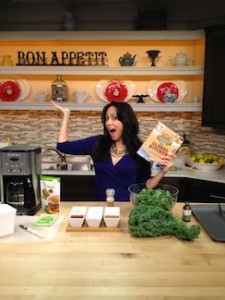 Being that I was just in New York a few short months ago, I didn't think I'd stumble across much new stuff. But boy was I wrong! While I was in town shooting a segment for The Better Show (click here to watch the segment!), I discovered a whole new slew of favorite foodie places and dishes in the city and I just had to share them with you!
One of my new city finds is The Soft Serve Fruit Company. Hands down, the best ice cream I've ever had and it's completely made of fruit! No soy, gluten free, no fillers or chemicals. Just fruit, ice and organic cane juice. It is the creamiest, tastiest and most awesome-est ice cream ever. I had a s'mores sundae with dark chocolate soft serve, hot peanut butter drizzle (literally just hot peanut butter!), chocolate chips, bananas and graham cracker crumbs. Yum!! (I nixed the marshmallows as I'm not a big fan). They've got 2 locations in the city (upper eats side and union square) and one in the Hamptons so be sure to add them to your must eat list!
My next, "blow my socks off" surprise is the Palenque Food Truck. A Colombian food truck that has a giant vegetarian menu! I'm Colombian and can only eat my fave dishes if I make them myself so I was crazy excited when I could order arepas topped with deliciousness and yucca fries from a food truck. The have vegan sauces, brown rice, quinoa and offer a deliciously healthy twist on Colombian favorites. They are super nice, the food is great and if you love or grew up on Colombian food like I did, Palenque is a must find in the city!
For those of you who watch the food network, you are probably familiar with Morimoto, the Japanese Iron Chef. He is a master and has restaurants by the same name in NYC and Philly. I had the pleasure of dining at the Morimoto location in Chelsea. Sure, it's traditional Japanese, lots of meat and fish, however, the veggie options are fantastic. They offer a beautiful vegan platter, chock full of beautifully prepared vegetables as well as lots of veggie rolls. But my favorite dish is called yosedofu. In the hot appetizers, it's a perfect dish to share or have as an entree. I like to call it magic tofu as they make the tofu table side! So cool! Then they bring the broth and yummy veggies to mix your tofu with for a delightful and entertaining meal!
Located on the edge of Little Italy is Spring Street Natural. A bustling restaurant that has something healthy for all sorts of diners. Whether you're vegan, gluten free or just looking for something to keep your waistline in place, SSN has got it. I had their tofu scramble platter but was torn as the vegan options were aplenty! With a subway stop right in front of the joint, it's easy to find and fun to dine in. Then you can shop all the local stores to walk off your meal!
For a quick meal in the east village, pop into Pie by the Pound. A healthy pizza place that offers regular, gluten free and vegan pizza pies! You get to pick how big or small you want your slice so you'll have to restrain yourself as the slices are delish! Their sauce is to die for and you can go nuts with tasty toppings. Affordable and tasty, you can't go wrong at Pie!
Well, I bet there will be even more next time I'm in the Big Apple so I'll be sure to keep my eyes peeled and report back!