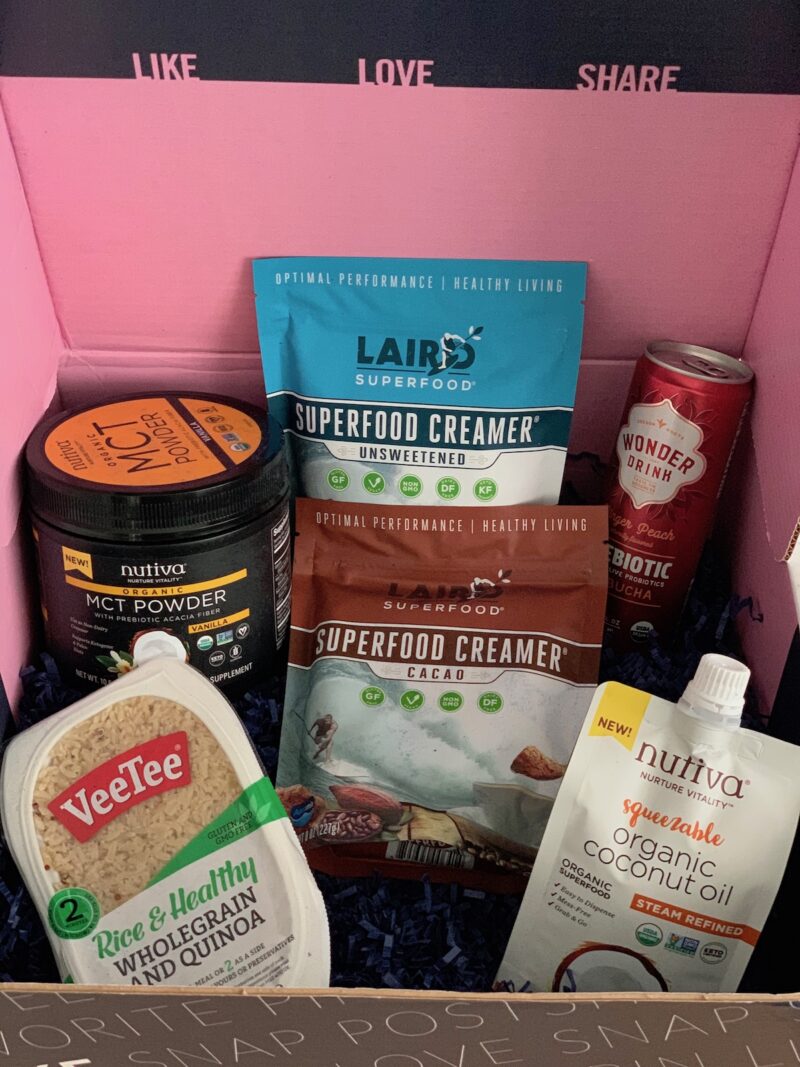 *This post is sponsored by BabbleBoxx.com.
We have survived winter and are now around the corner from swimsuit season. Even if you fell off the wagon from your new year resolutions, spring has sprung and it's a good time to get back on your path to wellness. Just in time for National Nutrition Month too!
Just like having a good buddy to help you stay on track, having your go-to products that make your healthy goals easier to achieve are definitely necessary. Which is why I'm so glad to have discovered these incredible products that help me keep my health in check in tasty, convenient ways!  Check them out!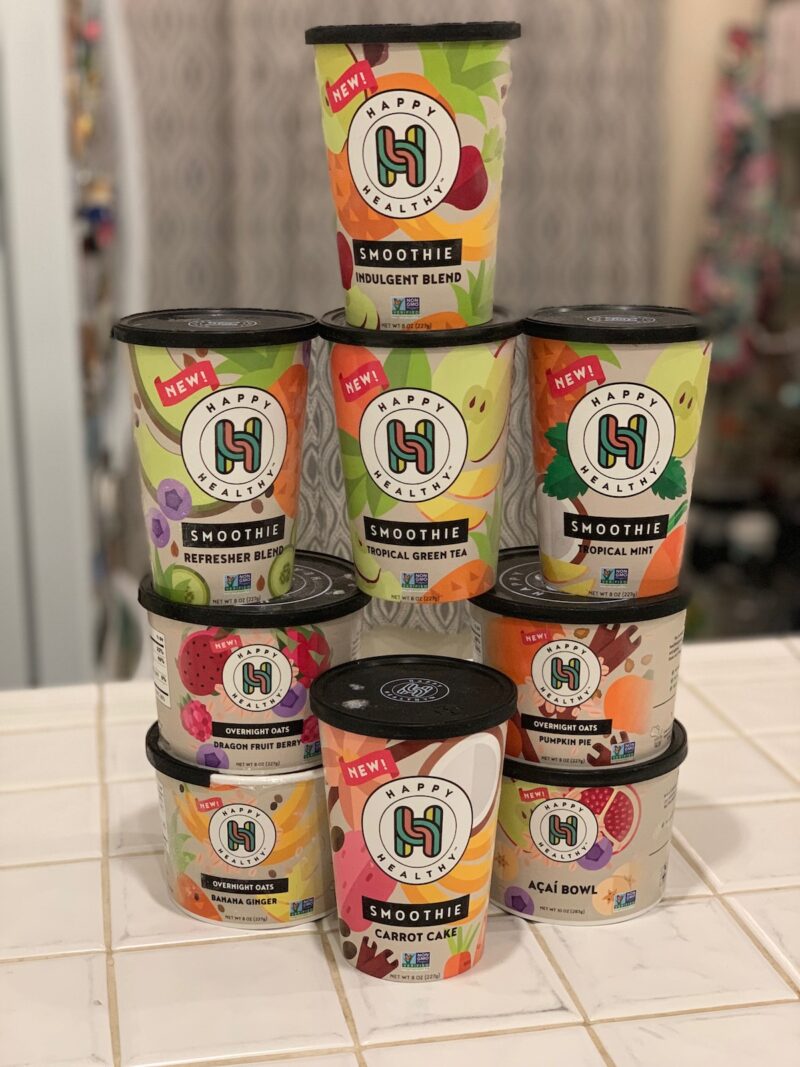 Happy Healthy Co 
Ok, as mentioned, convenience is a huge part of staying on track. Finding healthy meals and snacks that are also quick and easy can be challenging. Which is why I love Happy Healthy Co!
Offering home delivery of Happy Healthy Smoothies, Bowls, Overnight Oats and more, meal and snack time just got easier! Mix and match bundle boxes are now available online, shipping direct to doorsteps anywhere across the continental United States. Through the month of March, new customers will receive $10 off their first order.
Shipped in pre-portioned cups packed with dry ice keeping it frozen from farm to freezer. All ingredients are non-GMO and produced in a nut free and vegan facility.
Their Happy Healthy Smoothies come in 5 delicious flavors in combos using Green Tea, Apple, Spinach, Mango, Pineapple, Coconut, Mint, Spinach, Beets, Cacao Nibs, Banana, Carrots, Date, Sweet Potato, Chia Seeds, Blueberry, Cucumber, Honeydew Melon, Flax Seed, Hemp Seed, and more. Simply add your favorite milk or water, blend, and enjoy. Non-GMO, nutrient-rich smoothies on the fly! Filled with antioxidants and great for heart and brain health!
Their Happy Healthy Overnight oats are available in 3 delicious flavors in combos using Raspberries, Oats, Blueberries, Dragon Fruit, Banana Puree, Peaches, Pineapples, Chia Seeds, Pumpkin Puree, and Raisins. Add your favorite milk or water, place in the fridge overnight. Enjoy hot or cold in the a.m. and put the "fast" back in breakfast! Great for immunity boosts, weight control and heart health!
Their Happy Healthy Açaí bowl is just thaw and enjoy! Same day or in the fridge overnight. No-hassle, no-prep, organic deliciousness made with Açaí, Oats, Honey, Apples, Pomegranate, Blueberries. Filled with antioxidants and great for heart health and detoxification!
Delicious, easy, convenient and totally satisfying!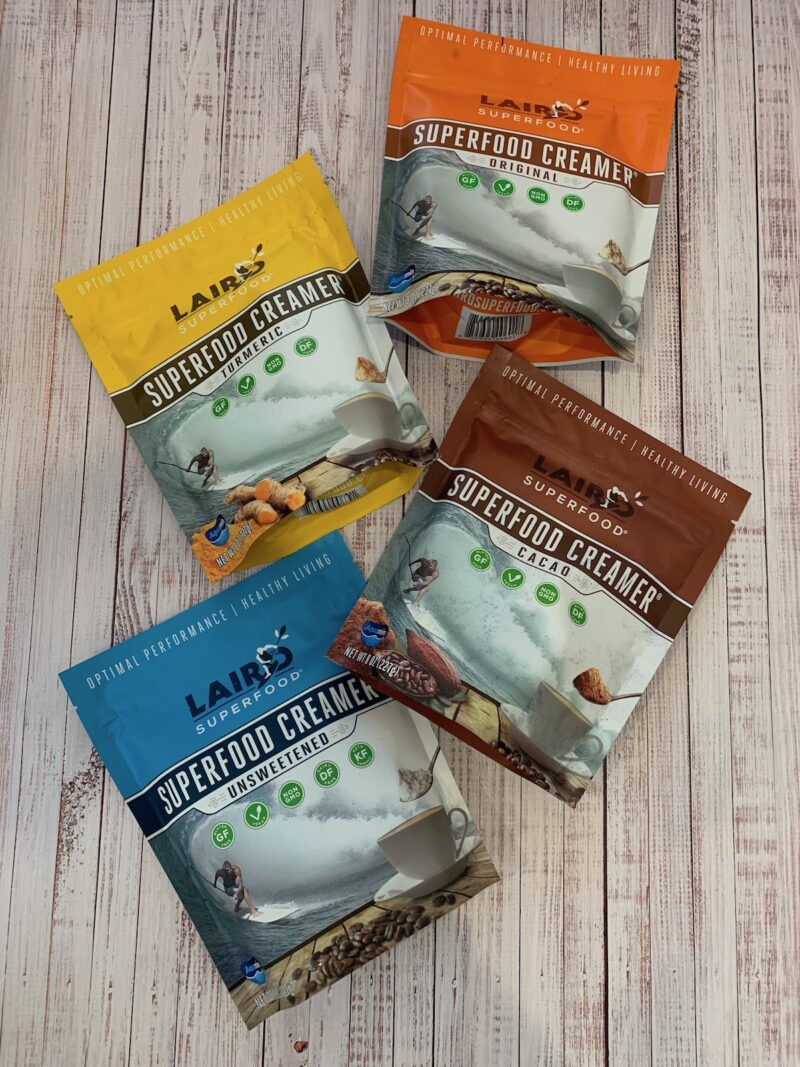 Laird Superfood Creamers: Original Cacao, Turmeric and Unsweetened
I've always been a huge fan of Laird Hamilton. Growing up as a surfer kid, I always thought he was rad and now that he is in the health game, I'm an even bigger fan. And wow, the Laird Superfood Creamers are simply incredible!
Laird Superfood only uses all-natural, whole food, functional ingredients. They never add anything artificial and their products are safe for just about any diet or values-based eating plan.
And how cool is this – New customers can save 20% on their first order at Lairdsuperfood.com with code BABBLE20. Offer expires June 1, 2019. Totally tubular!!
The Original Superfood Creamer is great if you're looking to upgrade your morning coffee, the Original Superfood Creamer is the perfect place to start. This creamer naturally contains a full range of MCTs meaning it offers a great source of added energy without the crash. And with just four plant-based ingredients, this is a must-have product for those looking to clean up their diets!
Now the Cacao Superfood Creamer is a must for all chocolate lovers! Rich Cacao Superfood Creamer combines raw, cold-pressed cacao with our Original Superfood Creamer to create a deliciously guilt-free five ingredient treat.
One of my faves is the Turmeric Superfood Creamer. Making it easy to enjoy the natural benefits of organic turmeric in your coffee, teas, smoothies, and food. Its naturally occurring MCTs help to increase the body's absorption of curcumin – the bioactive component of turmeric.
For those watching their sugar intake, the Unsweetened Superfood Creamer is for you. With a subtle natural sweetness from real coconut, the Unsweetened Superfood Creamer gives your coffee or tea a smooth, creamy finish, perfect for those who like to keep things simple. The Unsweetened Creamer has just three ingredients: coconut milk powder, extra virgin coconut oil, and Aquamin™. With no added sugar, this is especially a great choice for those following a keto diet.
Superfood Creamers are an all-natural way to add functional ingredients to your morning coffee, tea, or smoothie. Plus they are a great option for vegan and gluten free baking!
Nutiva Powder Vanilla & Coconut Oil
I use coconut oil on the daily, from baking to cooking to a skin and hair product, it's my multi use fave! And Nutiva is where it's at when it comes to terrific organic products!
For my loyal readers, get 25% off All MCT Powder Flavors + Refined/Virgin Coconut Oil Pouches with codeNUTIVA25  – Offer valid 3/1/19-5/31/19; cannot be combined with other offers, limit one use per customer. Be sure to check out https://store.nutiva.com/discount/NUTIVA25
Nutiva Organic Squeezable Steam Refined Coconut Oil is made from organic dried coconut. The creamy expeller-pressed Squeezable Organic Refined Coconut Oil is steam-refined without chemicals. The result? A neutral scent and flavor that makes it one of their most versatile culinary oils. With a higher smoke point than Organic Virgin Coconut Oil, the Organic Refined Coconut Oil is extremely versatile and can be used as an alternative to butter, olive oil and other vegetable oils.Use for baking, sautéing, stir-frying or anywhere else you would use vegetable oil or butter.
Pure formula free from hexane, chemicals, GMO fillers, dairy and gluten Nutiva Organic Squeezable Steam Refined Coconut Oil is also steam-refined for no coconut flavor.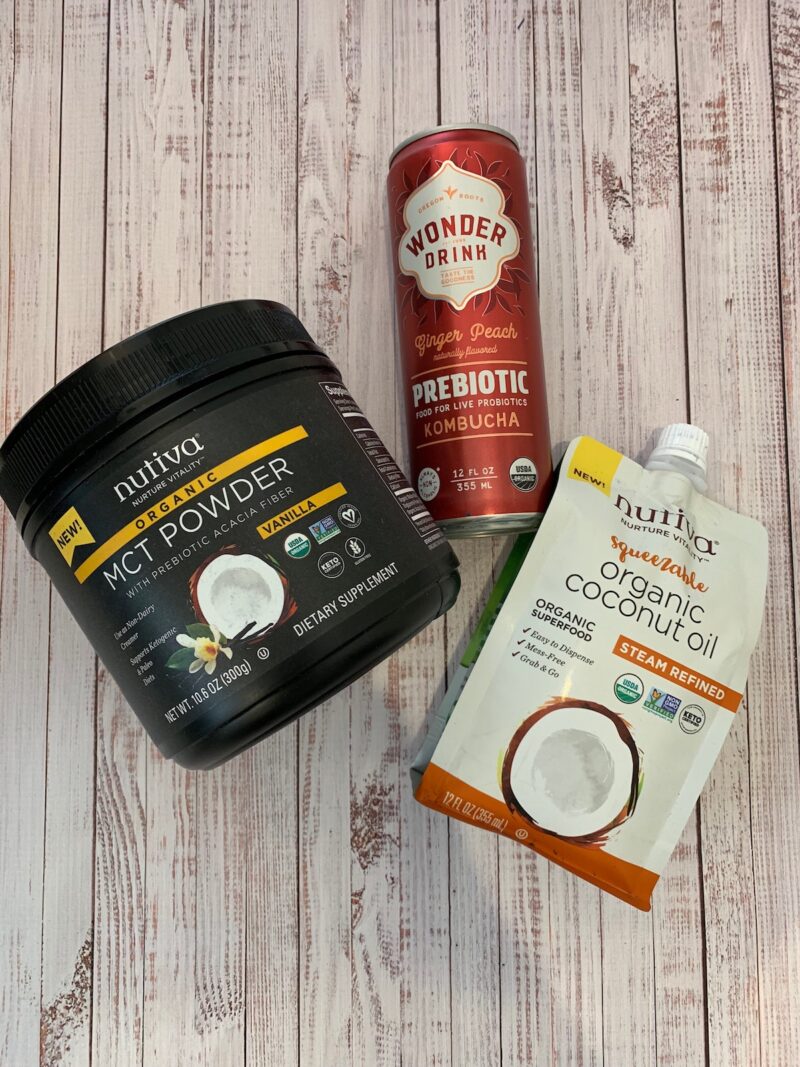 Nutiva Organic MCT Powder Vanilla is made without chemicals, filler oils or additives, the Organic MCT Powder is a premium source of energy-boosting MCTs, or medium-chain triglycerides. MCTs are vital to good health, impacting the metabolism, brain health, weight loss and more. Nutiva Organic MCT Powder is an excellent option for athletes or those following a ketogenic, vegan, paleo, or plant-based diet. Plus it's certified organic! Stir into coffee, smoothie and shakes to power your day, great for fast and sustained energy, mental clarity and fat burning throughout the day
Wonder Kombucha
Are you down with the Booch? I am and Wonder Kombucha is where it's at! The new Wonder Drink Prebiotic Kombucha is the first and only kombucha with Xylo-oligosaccharides, a plant-based, organic prebiotic fiber. XOS Fiber—or "Xylo," as we like to call it is shown to selectively nourish naturally occurring probiotic bacteria in the gut.
With only 10 grams of sugar per serving, Wonder Kombucha is not only tasty, it's also non-alcoholic, certified organic, non-GMO, gluten free and vegan and perfect for prebiotic, gut health.
Each 12 oz slim, premium-looking can contains only 10g of sugar and is certified organic, guaranteed non-alcoholic, Non-GMO, vegan and gluten free. They come in three fruit-forward flavors: Ginger Peach, Tropical Mango and Apple Mint.
Get a $4 off coupon on Amazon for the month of March right here: https://amzn.to/2GwYmUe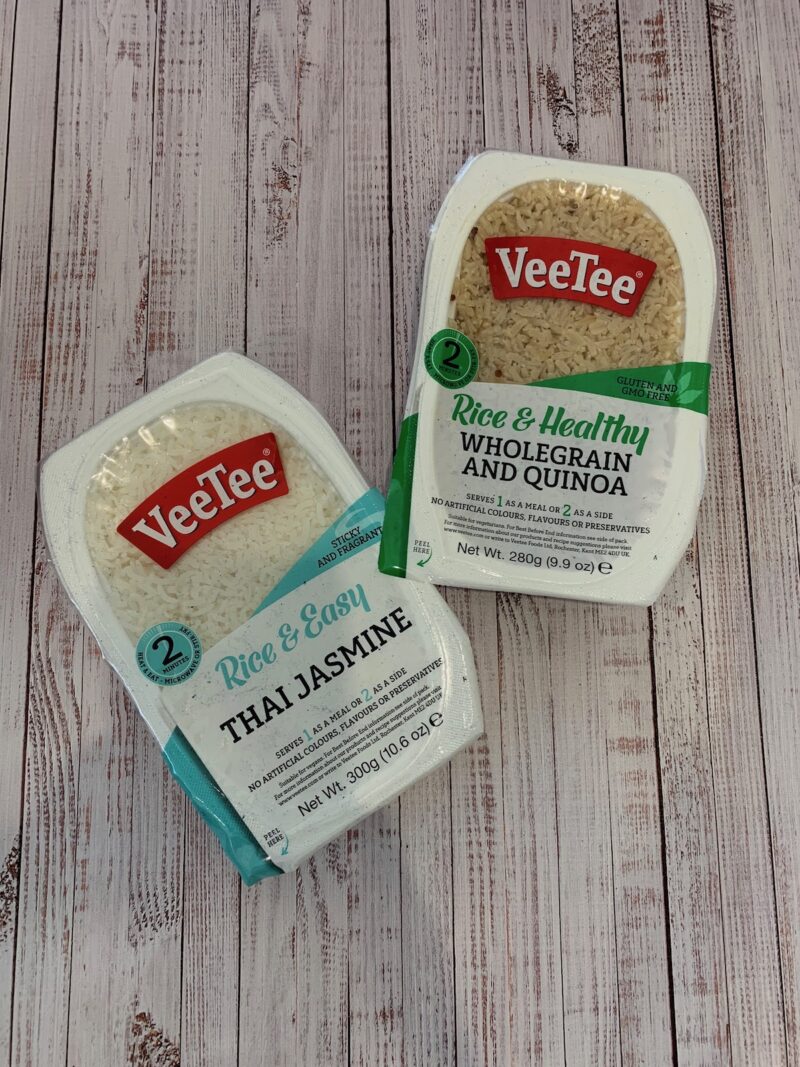 VeeTee Thai Jasmine Rice
At meal time, there are some staples we can't live without to make a meal feel hearty and satisfying. And VeeTee rice and quinoa varieties give you just what you need for a complete dish.With no artificial flavorings, colors or preservatives, VeeTee is gluten-free, vegan and Non-GMO verified.
VeeTee's Thai Jasmine Rice has a subtly fragrant aroma and sticky texture, perfect for soaking up Thai curry sauces or eating with chopsticks. Its unique texture adds a little more authenticity to your Asian mealtimes in minutes, whether sweet or savory. All you need to do is peel back the lid, pop it in your microwave and cook for 2 minutes. Who knew rice could be so easy?
VeeTee's Wholegrain Brown Rice & Quinoa is the perfect way to introduce the protein-rich quinoa grain into your diet. Made using wholegrain Thai jasmine rice, VeeTee Wholegrain Brown Rice has a nutty, slightly sticky texture and contains all the goodness of brown rice. VeeTee Wholegrain Brown Rice & Quinoa is ready to enjoy after just 2 minutes in your microwave, it boasts versatility and can be enjoyed as a side, in salads and much more.
Well, hopefully some, if not all of these products will help put spring in your step in time for summer!