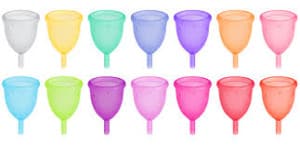 It's time to get real about a topic everyone hates – menstruation. It's one of those things that most of us prefer to ignore except when absolutely necessary. But is ignoring your period costing you money, harming your body, and creating more plastic waste than necessary?
It's easy to keep on using pads and tampons without putting much thought into it. We've all been doing it for years. But lately, the more eco-friendly people have made the switch to a menstrual cup.
It's exactly what it sounds like: a bell-shaped cup you place in your vaginal canal. It collects the menstrual fluid, and you simply empty it into the toilet or sink, rinse, and re-insert. The top-quality ones are made from medical grade silicone and are perfectly safe to have inside of you.
While it sounds intimidating to be that up close and personal with yourself, there are a number of big advantages. Keep on reading to find out what they are!
Advantages to Using a Reusable Menstrual Cup
Health Benefits
Everyone has heard the horror stories about toxic shock syndrome (TSS) from tampons. It's a genuine danger, and it's also one you avoid with menstrual cups. To date, there has only been one reported case associated with menstrual cups; there have been thousands with tampons.
On top of TSS, menstrual cups also avoid the chemicals, bleaching agents, etc. in tampons and pads. Over time, exposure to even trace amounts of this stuff can lead to some serious health problems, including cancer. Check out this article from the Huffington Post for more details.
Save Money
Have you ever added up the amount you spend every year on tampons, pads, and panty-liners? It's a scary thing to think about. I know that I personally feel very unhappy every single time I walk down that aisle at my local drugstore!
That's not even counting the amount of money wasted with stained underwear. On average, people spend $5-10 a month on this stuff each month, and even more if they have a heavy and/or long period. This adds up to thousands of dollars over a lifetime.
One reusable menstrual cup can be used for 5-10 years. Most cups cost between $20 and $40, which means that you'll be saving a ton of money over the medium to long-term when compared to disposable pads and tampons.
Comfort and Convenience
Life doesn't slow down when you're on your period. In fact, it seems to be frustratingly opposite.
One of the many benefits of reusable menstrual cups is that they can be worn for 12 hours. That's four times longer than the absolute maximum you should wear a tampon because of the risk of toxic shock syndrome.
Another factor is that jumbo tampons have a capacity of around 10 ml, while menstrual cups hold an average of 30 ml. There are even some high-capacity cups that hold up to 40 ml. For example, the Super Jennie, the Anigan EvaCup or the Daisy Cup.
3-4x more capacity equals 3-4x less period hassle.
Environmental Benefits
The reusable menstrual cup isn't just great for you, it's great for the planet. Every tampon or pad you use takes plant material, fossil fuels, landfill space, and more.
The average person uses up to 16,000 tampons or pads in a lifetime! That's one heck of an environmental footprint, especially considering that these products are often made with plastic which isn't biodegradable. And we're not even factoring in the packaging that these products come in.
Or, you can use 4-8, eco-friendly menstrual cups over the course of a lifetime. It really does make a huge difference!
Are you Ready to Make the Switch?
We recognize that menstrual cups can sound scary to someone who's not familiar with them. But our mission is to educate you about your options.
At the end of the day, every person has to do what works for them. But we hope that you'll consider a menstrual cup because it's an eco-friendly, wallet-friendly, and body-friendly feminine hygiene option.
Check out Healthy Voyager's Diva Cup Review for all the details on the most popular menstrual cup brand in the world. Many people start with the Diva Cup, and end up sticking with it for the rest of their lives. It really is an excellent menstrual cup.
Or, if you'd like to find the menstrual cup that will work best for your body type, then check out this menstrual cup quiz. There are five easy questions that will only take a couple minutes of your time. Then you'll get a recommendation for which one is right for you.
Bio:
Jackie Bolen is a tree-hugging, friend of the Earth who can often be found catching a wave, on top of a mountain, or drinking organic coffee around Vancouver, Canada. Her hope is that one day, a reusable feminine hygiene product will one day be found in the hands of every single menstruating person in the world, because this has the potential to make it a better place.
You can find her on Facebook, Pinterest, Twitter, or Google +.