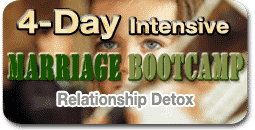 In this day and age, in this economy, relationships are hard. Divorces are being filed at alarming rates,
and some folks are staying together, unhappily, because they can't afford to leave.
An unhappy home affects everyone living there and beyond. The kids, your job and even your health.
But if there was a way you could save your marriage and be happy, would you give 4 days
of intensive work a chance?
Sure, it may seem like a long shot after years of pain and resentment and
running out on your marriage seems like the best idea, especially in heated and struggling times.
I'm here to tell you that it's possible to not only save your marriage or relationship,
but you can be happy again both in your marriage as well as
as an individual.
Whether you're on the rocks, need a little boost or even if you are already separated,
the 4 Day Marriage Boot Camp needs to
be at the top of your list.If you and your spouse are at your wits end, have tried counseling and feel as though you are spent,  don't wait
another moment.
As a recent graduate of the 4 day intensive program, my husband and I are living proof that this program works.
We can't stress enough to our friends how much this helped us and are 100% convinced that it has saved or marriage.
No matter what your problems are as a couple, these 4 days can and will help you in ways you couldn't achieve in
years of therapy. You will grow as individuals and learn to see each other through new, more compassionate eyes.
So if you're frustrated and unhappy with where you're at as a couple, both Dr. Phil & I agree
that Marriage Boot Camp is the place to heal those wounds and learn how to live the life
you and your spouse where meant to live!
Regardless of religious affiliations, financial situations, how far gone you think you are, etc, be sure to go in with an open mind and heart
and you will find that the 4 Day Marriage Boot Camp is the best time and money
you will ever spend!
The program runs once a month in Southern California as well as in Vancouver so make your plans today!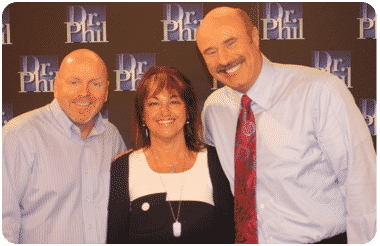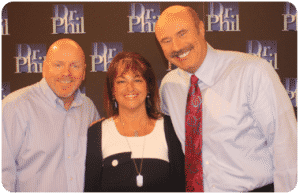 Dr. Phil with Marriage Help Center Founders & Directors, Ron & Tina Konkin
**Marriage Help Centers offers the renowned intensive Marriage BootCamp, the Exclusive Marriage Retreat, The Life Enrichment BootCamp, and the 8-Hour Mini BootCamp