We all agree, travel is awesome. But it's not so awesome if we get sick or find out we have contracted some weird bug, bacteria or been in contact with some crazy toxin.
Luckily, I've been very lucky and have never gotten sick abroad but I do go to some remote places where cleanliness standards aren't so up to snuff. I take as many precautions as possible such as:
Washing my hands frequently with soap and water
Eating only cooked foods
Drinking bottled water
Avoiding raw fruit and vegetables that have been washed in tap water
Being careful with street food
Taking vitamins
However, there are times you may get in contact with food and water from an unknown source and these may be contaminated with heavy metals (e.g. using old plumbing) or mycotoxins (from mold).
Being exposed to mycotoxins will be even more pronounced in countries where food derived from corn (corn is prone to be highly contaminated with i.e. Fumonisins, a mycotoxin) is a staple food, leading to very high intake levels of these toxins.
That's why I travel with G-PUR. Taking G-PUR together with the food can reduce the negative impact of these unwanted substances, whether you know their origin or not. Better safe than sorry!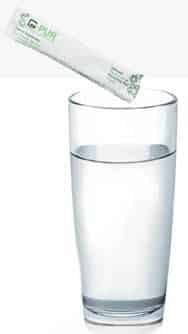 There are many Clinoptilolite deposits of differing qualities found around the world, including the USA, Cuba, Mexico, Turkey, Greece, Ukraine, and China. The presence of impurities and coexisting phases may significantly affect the range of use of Clinoptilolites. G-PUR is exclusively sourced from a quarry in eastern Slovakia. This deposit provides Clinoptilolite of ultimate quality and, unlike many other deposits, Clinoptilolite which has an extremely low heavy metal content. What is extremely unique about this raw material from the Slovakian quarry is its very high homogeneity and the fact that it consists of two different Clinoptilolite modifications.
G-PUR Purified Clinoptilolite (Zeolite Mineral), is an easy-to-use dietary supplement that helps to prevent absorption of mold toxins, toxic heavy metals and dietary cholesterol from food and water you consume. G-PUR binds these toxins and dietary cholesterol and holds them securely for safe elimination from the digestive tract.
Dietary supplements offer the potential to improve your health. Many people take them to add something to their diet or to boost their immune system. Have you ever thought about how you can help prevent some harmful substances from getting into your system in the first place?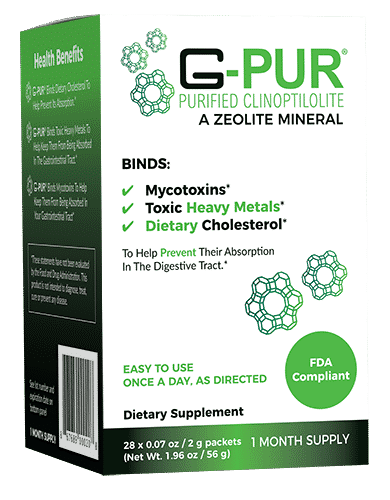 Unlike all other Zeolite products sold, it has to pass a patented purification process that safely removes impurities, only purified Zeolite products like G-PUR can be considered safe for human consumption.
What I love about G-PUR is that it is perfectly portioned and hygienically packed for travelers! Easy to pack and always have on hand when you need it.
G-PUR packets are an easy to add-to-water powder, packed in individual packets. Prevent and protect anywhere in the world easily with G-PUR!