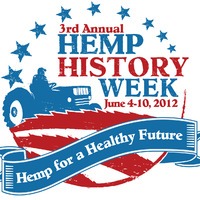 Hemp is an American crop, grown by George Washington and Thomas Jefferson, and it was an agricultural stable until the 1950's. But today, misguided federal policy criminalizes the cultivation of industrial hemp in the U.S., even though the plant has no drug value, is incredibly healthy and eco-friendly. That's a missed opportunity for American farmers and consumers alike.
I had the opportunity to take part in Hemp History Week this summer at a delicious soiree in LA. I spent time with Brendan Brazier, Ziggy Marley, Ashley Koff and other great media folks, learning about all of the great uses for hemp, including some fantastic food! Hosted at Akasha in Culver City, the food was divine, the information terrific and the company, perfection!
Did you know?:
  Industrial hemp has been grown in the U.S. since the first European settlers arrived in early 1600′s.
 The Declaration of Independence was drafted on hemp paper.
George Washington, Thomas Jefferson and John Adams all grew hemp and actively advocated for commercial hemp production.
Today hemp is used for thousands of sustainable products from nutritious food, body care, clothing, plastics, auto parts and even ethanol.
….But all hemp used in the U.S. must be imported due to outdated federal policy outlawing hemp farming in the U.S.
The folks behind Hemp History Week believe it's time to bring hemp back to America's farms. And I do too! It's healthy, green and could produce a lot of green for our farmers and our nation! Learn more at www.hemphistoryweek.com and this election vote hemp (visit www.VoteHemp.com for more info!)