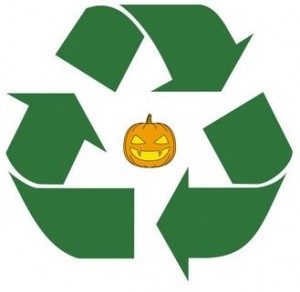 Just because it's Halloween, a time for excessive candy an sweet eating as well as disposable decorations, doesn't mean you can't do your best to keep it healthy and green! Save money, your health and the earth with these tips!
Visit and sign up for Green Halloween – it's a great resource for parents & schools to help make Halloween healthy and safe for our most precious goblins ; )
Visit school and community organized Halloween events, pumpkin patches and haunted houses.  It's a great way to help out your community while having some good clean fun.
If you are hosting a party, opt for the weekend after Halloween. This way, you can enjoy the actual Halloween night as well as the competing parties and you have an excuse to wear your costume 1 more time!  It's also a great way to rid yourself of left over candy and be able to enjoy the fun for a bit longer ; ) Or maybe, celebrate Dia De Los Muertos Day on November 1st with some creepy pinatas and fun Mexican style cuisine!
Make creative and healthy treats for your guests as well as opting for home made or recycled decorations. Here are some quick spooky treat ideas
Witch Fingers – Organic pretzel Rods dipped in Organic Chocolate and tipped with a Raspberry Licorice nail
Eyeballs – Peeled red, seedless grapes
Bat wings – chocolate kale chips
Veggie Crudite with Hummus in the shape of a skeleton
Guacamole brains – guacamole served in a manequin head
Make your own costumes. Each year Dan & I raid local thrift stores and put together our costumes by just recycling people's discarded clothes. We not only get great inspiration but we save a lot of moola by not buying pre-packaged costumes. If you or a friend has a sewing machine, you can alter and embellish the garments for a unique disguise. Plus you can avoid hearing, "OMG, we're wearing the same costume" at any spooky festivities!
Use reusable cloth or canvas bags for trick or treating. You can wash them if their is any chocolate meltage and they won't tear or break saving you from disappointed little goblins ; ) Even better, personalize the bag and designate it as their personal trick or treat bag to use every year!
Environmentally conscious Halloweenites may want to bring along an extra bag for trash. Many excited little ghouls may leave behind wrappers and half eaten treats. Be a good witch and pick up what you see along your evening and make up for the naughty little gremlins ; )
Practice what you preach and hand out healthy Halloween treats like what they sell at Vegan Essentials and other online vegan stores or even at Whole Foods.
If you are hosting a party, make it green:
Feature organic, locally grown pumpkins for carving, apples for bobbing, and other pesticide-free, harvest season foods. Make sure you save the leftover apples and pumpkins to use in pies, soups, or other dishes.
Use dishes, cutlery, napkins and tablecloths that can be washed and reused instead of disposable plastic and paper tableware. Also, look into potato or corn based disposables if you cannot accommodate the party with your personal dishes.
Use recycled and recyclable materials to create your Halloween decorations. Bed sheets hung from the ceiling or tree branches make great ghosts, for example, and can be taken down, laundered, and returned to the linen closet when Halloween is over.