*This blog post is part of a paid Megan Media and Health Warrior blogging program. The opinions and ideas expressed here are my own.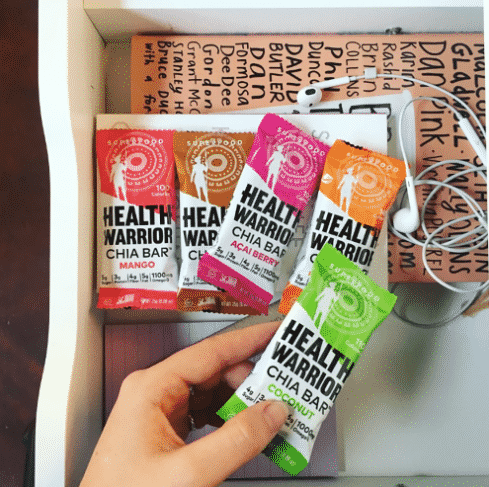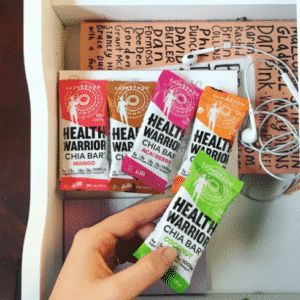 New year, new you, right? Well, sure, but doing this successfully takes a bit of work and focus, which means that many fall off the wagon before the end of January. But I've got some fun and easy tips below to help you become a real "Health Warrior" in every aspect of your life this new year!
For my 2017 resolutions and tips, I was inspired by Health Warrior, a food and movement brand. Health Warrior believes better health will build a stronger society. It is their mission to inspire healthy diet and exercise habits, fueling that momentum with their radically convenient superfoods.
Do the best you can to adopt healthier eating habits.

Food is your medicine and watching what you eat both in portion size, as well as what is and isn't on your plate, is the best way to stay healthy. Try to increase your veggie intake on a daily basis and add whole grains and complete proteins while decreasing your sugar, fat, and animal product consumption. Your body will thank you, as will the earth!
Fit in fitness wherever you can.

Be it a 20 minute walk after dinner or a dance class a few times a week, find ways to get the blood pumping. It will help you cope with stress and might even turn into something you look forward to every day. Especially when you make your exercise social like a class our group hike! And if you need a quick boost beforehand, grab a

Health Warrior Chia Bar

30 minutes to an hour before to make sure you don't lose steam. This 100-calorie chia bar was the first bar with chia as the #1 ingredient—the very first one you read on the label. Their protein bars that are great, too, if you need an even bigger energy kick, and deliver 10g of clean, plant protein from a superfood blend of chia, quinoa, and oats.
Go green as much as you can.

Some people are able to go green easier and faster than others. Recycle bottles, cans and bags at home; watch your water and electric usage; and try to carpool, ride your bike or walk when you can. Making an environmental difference doesn't happen overnight, and no one expects you to live completely off the grid – yet ; ) — but every little bit helps!
Financial fitness is part of the plan, too!

Watch your spending. Let's learn from the past and make 2017 a more financially responsible year by implementing healthier money habits at home. There are a variety of financial tools and applications available that can help. Most are free, too. Cut down on impulse buys and services you don't really need or use; make a list of what you can and can't do without and find alternatives (i.e. quit your Starbucks habit and make healthier lattes at home – you can save up to $150 a month this way!); see how you can barter services and/or items for things you need (i.e. baby sitting for house sitting, etc). Get creative and see the savings!
Make this the year you go for what you love.

 If you've always wanted to be a chef, look into affordable classes. If you want to start a home business, make time to do the research on what you need to get started – and don't be afraid to ask for help. Take inspiration from the three founders of Health Warrior, who started the brand after reading about the Tarahumara Indians of Mexico and their super long distance running marathons fueled by chia. They were three college friends with an empowering idea, and look where they are now. It's so great to see people going after what inspires them, and you can, too!
Surround yourself with a good support system.

No matter what your situation, nothing is worth having without being able to share it with people you love. Remember what is truly important in life and know that when times are tough, you have people to lean on and that you can be supportive to others, too. Bad times shall pass and we can all be, and use, a hand to hold for better or for worse ; )
Incorporate healthy snacking. Finding snacks that curb your cravings in a healthy way is key to fueling your body while not depriving your taste buds. My friends at Health Warrior can help with their delicious snack bars that fill you with delicious nutrition any time of day! And, in 2017, Health Warrior is launching their two newest flavors: Vanilla Almond Chia Bars and Mint Chocolate Superfood Protein Bars. I'll for sure be grabbing these as my healthy snack this year!
Health Warrior is also committed to sustainable sourcing of its Premium Grade A Chia Seeds, using no-till farming methods and supply with 100% traceability from farm to package. Health Warrior products are certified gluten-free and kosher, and are Non-GMO Project Verified.
The healthier you are, the happier you feel. Health Warriors don't just know that, they make it their mantra. Fueled by superfoods and always willing to go the extra mile, these Health Warriors push beyond their mental and physical limitations to be their best selves and get the most out of life.
This year, Health Warrior is also launching a fabulous new flavor, Mexican Chocolate Chia Bars, to go along with their kickstarter campaign: Operation Farm & Run. This awesome project will benefit sustainable agriculture projects on the farms of the Tarahumara, the same Mexican Indians famous for running miles with ease with no shoes, and for inspiring the Health Warrior brand. Be sure to support Operation Farm & Run and grab your Mexican Chocolate bars asap!
Want to win $500 and a 6 month supply of Health Warrior Chia Bars? Be sure to enter the Health Warrior "When Are You A Health Warrior?" Instagram Sweeps! To enter, just upload an image that shows when you're a Health Warrior, and use the hashtag #HealthWarriorSweeps, and tag @healthwarrior on Instagram. Photos may include healthy snacks, healthy meal prep, fitting in daily exercise to a busy schedule, making it to the gym for the 3rd or 4th time in a week – and all of those other "little victories" that add up to being a "super you!"
Here's to a Health Warrior New Year!