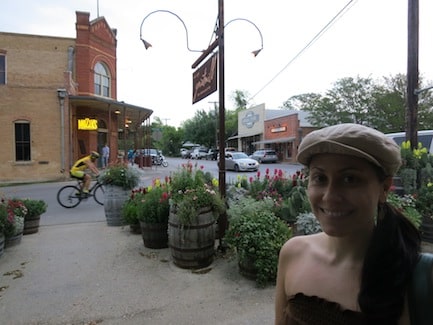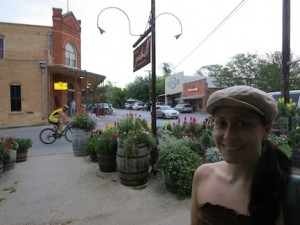 Located just outside of New Braunfels, Texas, you'll find the historic district of Greune. It's quaint streets played a major role in the John Travolta movie Michael and have been bustling since 1845. Another German settlement, Greune is a slice of history with some real All American charm. It's great to walk around, shop, catch live music and eat! A fun day trip if you're in San Antonio or Austin!
The most notable landmark, outside of the Greune water tower, is Greune Hall. Most notably shown in the Travolta film, Greune Hall was established in 1878, it is  Texas's oldest dance hall. Still packed with folks, live music and flowing spirits, Gruene is like no other place. A great historic vibe that is still  going strong with live music, people dancing and enjoying the open air feel of this American gem. While they don't serve food, the do serve booze, tunes and lots of smiles! A must visit, if even for 1 drink!
The most popular eatery, and rightfully so, is the Gristmill. Overlooking the Guadalupe River, this multi-level restaurant boats incredible outdoor dining with the sounds of the rushing river below along with it's structure having been the original cotton mill in 1922. While it's NOT a veggie paradise by any means, the location and feel of this place is enough to park it outside for a drink and perhaps a salad. I enjoyed some fries, a side salad and a cold beverage just so I could sit outdoors and take in the scenery. The beans are made with bacon and everything is pretty much Meaty McMeat but you can finagle and amend the menu if you're itching to enjoy the gristmill experience!
Now, if you don't care much for messing with the menu just to hang in a cool spot, try Cantina Del Rio. Also located on the river, you can rarely go wrong with Mexican food. Indulge in guacamole and salsa, ask for veggie fajitas and tip back a few margaritas! Perhaps start with dinner here and head over to Greune Hall for some tunes and dancin' afterward!
If you're looking to stay in Greune, maybe dine, shop and then do some tubing down the Guadalupe, check out the Gruene Mansion Inn. Built by the son of the man who which the town was named after, this original Victorian manor is charming and really epitomizes the town and the era of which is was constructed in. They are great about accommodating special diet travelers as well as serving their guests as though they are royalty. real southern hospitality in a wonderfully historic locale, you can't beat it!
I adore small towns, especially ones filled with rich history like Greune! If you find yourself in Texas with some time to explore, put Greune on your list!