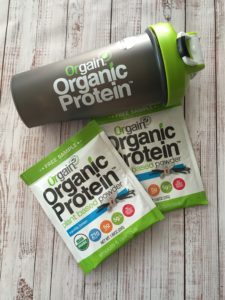 * This is a compensated campaign in collaboration with Orgain and Mamavation. All opinions are my own.
I love plant based protein powders because it's a great way to boost your smoothie as well as your day in a healthy way. However, many contain a bunch of sugar, fillers and junk so it's hard to find the right one for you. Well, Orgain is not only truly pure, it's delicious!
In 2 terrific flavors, chocolate fudge and sweet vanilla bean, is smooth, tasty and grit free! Plus, every serving boasts 21 grams of organic, plant-based protein made up of organic brown rice, hemp, chia, and pea proteins. There is no added sugar and also includes 5 grams of organic fiber. How can you beat that?
Orgain stands out from the crowd as it is doctor developed, organic and truly delicious! Perfect for people on the go, moms, athletes, students and is great for weight maintenance and supplemental nutrition. And did I mention super yummy!?
Watch this fun video to learn more about Orgain!
If your protein powder isn't delicious AND free of anything artificial, it's time to get picky with your protein. At Orgain, being picky means they don't compromise on nutritionals, ingredient quality, OR taste. Orgain Organic Protein is smooth and delicious, not gritty like other plant-based proteins.  You'll actually enjoy drinking Orgain Organic Protein! I sure do!
Formulating the world's first organic, ready-to-drink nutritional shake was Dr. Andrew Abraham's life work. Literally. As a cancer survivor and trained medical doctor, he had firsthand experience with the critical importance of organic, wholesome nutrition and the vital role it plays in supporting the body in times of stress.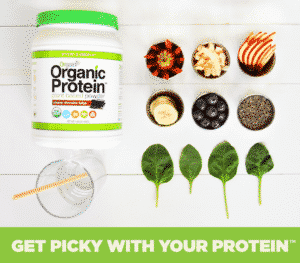 Following his cancer diagnosis, he was in desperate pursuit of a healthy, nutritious drink made with only high quality organic ingredients. The truth is, most "nutritional" shakes are anything but, filled with corn syrup, genetically modified soy, artificial flavors, hormones, antibiotics and low quality non-organic ingredients that keep costs low and profits high.
He made it his mission to formulate a drink that would actually make a difference in my health. It had to be certified organic, lower in sugar, high in organic protein, and also be free of artificial sweeteners, preservatives and colorings. After exhaustive work and research, and a lot of time in the kitchen working with real organic ingredients, he finally developed the perfect formulation that would later become Orgain®.
Today, he is proud that Orgain® nutritional shakes are supporting thousands in their own battles with illness, and delighted that so many folks around the country have discovered Orgain® as a helpful tool to maintain and optimize their good health, as a post workout shake or a better-for-you meal on the go.
Because they are committed to offering high quality organic nourishment to meet individual needs, they recently added some new Orgain® products to our line-up, including nutritional shakes in kids, vegan, and high-protein varieties, and a great tasting, plant-based organic protein powder.
Whatever your reason for choosing Orgain®, they want you to know that everyone at Orgain® has one goal—to make better nutritional products that help each and every one of you gain health, gain energy and gain life.
I love Orgain for it's taste, convenience and wealth of nutritional value and that's why it's Healthy Voyager Approved!
* This is a compensated campaign in collaboration with Orgain and Mamavation. All opinions are my own.