*This is a sponsored post on behalf of Twinings of London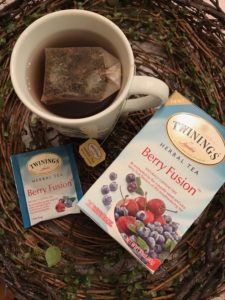 Do you feel that? Love is in the air! While it's still chilly outside, the month of love is here to melt away the snow and usher us into spring. This time of year, people are seeing hearts and stars while also setting their sights on warmer weather.
That's why I love Berry Fusion Herbal Tea by Twinings of London!  Bursting with sweet, fruit flavor, it feels like a treat that keeps me warm when it's cold out and when the weather warms up, it's the perfect complement to any outdoor bbq or picnic when served cold!
This one-of-a-kind tea starts with ingredients expertly selected from Europe, South America, Egypt and Asia.  A unique blend of rose hips, hibiscus, orange and blackberry leaves, apple pieces, liquorice root and natural berry fruit flavors come together to craft a mouthwatering tea that is simply irresistible, whether served hot or cold.
Ready to sip a truly flavorful tea?
To brew the perfect cup of Twinings Herbal Tea, bring water to a boil and pour over the tea bag as soon as it reached boiling temperature. Over boiling will cause the oxygen levels to be reduced thereby making the tea taste flat instead of full bodied flavor. Brew for 4 minutes or to taste.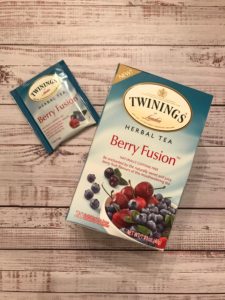 About Twinings of London
In a time when coffee was king, one man, Thomas Twining, went against the tide to share his love of tea, starting in 1706. His passion turned a little-known drink into the nation's favorite hot beverage. For us, tea is more than just a drink. It's been part of their daily lives and the lives of generations of tea lovers for over 300 years.
Twinings of London has been making quality tea for more than 300 years. The House of Twining in London was opened with the vision of selling only the finest teas, herbs and infusions. With the finest ingredients sourced from around the globe, each unique blend is expertly crafted by a team of master blenders to create the perfect balance of taste, flavor and aroma.
In fact, nine master blenders travel the world to find only the best teas, spices, herbs and fruit fusions around so that they may expertly craft the 17 herbal tea varieties that suit every mood.
That's why Twinings of London is the only choice for the holiday season! Curl up, sip and enjoy!