Fall is in full swing and that means lots of delicious autumnal veggies, yum! From pumpkins to apples and pears, the harvest we get to enjoy all season long is delicious and nutritious. However, maybe the little ones aren't as excitable as we are about fall veggies even though their growing bodies need them for proper development and overall health. So how do you get picky eaters to not only eat but also enjoy their veggies? How about drinkable produce?
Made from,certified USDA organic ingredients: coconut water, milk, fruit and vegetables, these Ella's Kitchen Coconut + Milk Nutritional Shakes are parent AND toddler approved! Little ones love the flavors while moms and dads rejoice that their growing babies are getting the healthy nutrition they need. Made with organic, whole fruit, veggies, coconut water and grade A milk, these yummy daily nutritional shakes help little ones grow bigger and stronger! Ella's also keeps their promise of offering a great alternative to conventional brands by having no additives, no chemicals or fortification, just nutrition from real ingredients. Yummalicious!
 The two delicious varieties that are available now at Target stores nationwide as part of their Made to Matter program are Coconut + Milk with Broccoli, Plums + Pears as well as Coconut + Milk with Banana, Apricot + Raisin! Both are wonderful for little ones developing taste buds as well as being super nutritious. All varieties of the Coconut + Milk shakes are suitable for ages 1+, are certified USDA organic, certified Kosher, gluten free and contain no additives, fillers, thickeners, preservatives, GMO's, artificial sweeteners or colors.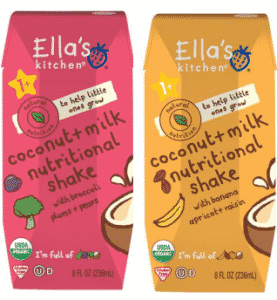 Each serving boasts 44% of a child's daily protein needs, 30% daily calcium while also having the added benefit of potassium and sodium to replenish lost nutrients and electrolytes. Plus they are a great source of vitamins B12 and B2 as well as iodine. Flavorful and functional!
So when your little one is fussing at meal time, supplement their healthy meals with the treat of Ella's Kitchen® new and tasty Coconut +Milk fruit and veggie shakes! From infants to big kids, the shakes taste great to them and give their growing bodies the healthy ingredients they need, keeping parents worry-free! Well, at least in the healthy eating department!
And don't forget to check out all the new flavors and products in Ella's Kitchen® Farmacy where you can download coupons for the drinks and mix-up your own shake flavor for a chance to win a Farmacy Fun pack and $25 Target gift card!