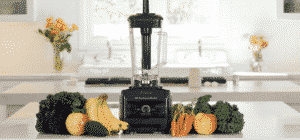 For those of us who worship smoothies, soups and healthy ice creams made by the all powerful blender, I've got some news for you! If you don't want to take out a second mortgage on your home in order to make healthy meals at home, there is a new blender in town that is just as phenomenal as the other guys but a fraction of the price!
I give you CleanBlend! An affordable alternative to high priced professional and commercial blenders sold on the market, their motivation was and is to help more people get access to a quality, affordable appliances to help them prepare nutritious green smoothies, raw, organic, and healthy meals for their family and friends.
The High Performance, Commercial-Grade Blender For Deliciously Healthy Living offers:
Impressively powerful 3 horsepower, 1800w motor that keeps things running—and blending—smoothly
Oversized, virtually unbreakable 64-ounce BPA-free container that holds all the fruits and veggies you can handle and is a cinch to clean
Stainless steel enclosed blade assembly with a sealed ball bearing ensures the entire blender is strong and sturdy
Pulse feature to give you the perfect chop and a light, creamy finish to thicker recipes
The included tamper wand provides extreme processing power and breaks up air pockets while you blend, giving you a smoother smoothie without the chunks and lumps
5 Year Warranty included so you can blend easy knowing your Cleanblend is ready for any recipe you can imagine
And for half, or even less, than the competition! For all these reasons and more, that's why CleanBlend is Healthy Voyager Approved!

If you liked this article, you may also like: