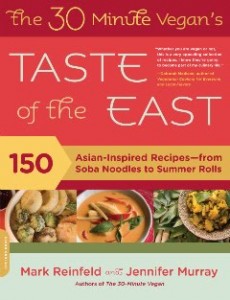 If you're looking to spice up your cooking while not having to spend to much time slaving over a hot stove, The 30 Minute Vegan's Taste of the East is the cookbook for you!
For many, ethnic foods, specifically Eastern food seem a bit taxing and complicated. Not to mention having to seek out specialty ingredients
so it makes it that much more "foreign" for the home cook. Well, the great thing about the 30 minute Vegan's cookbook is that it not only brings a variety of Eastern flavors into your
kitchen, it makes it incredibly accessible.  Eastern fare has always been simple to navigate for vegans and vegetarians while dining out but perhaps not so much when it
comes to preparing it at home. From Indian & Japanese to Thai & Chinese, The 30 Minute Vegan's Taste of the East is a must have for even the omnivorous kitchens
as it will add variety, exciting flavors and quick meal ideas to your dining table!
The book chapters break down the nations that Reinfeld & Murray have created recipes for. In addition to the eastern countries, the authors have included an
Asian Fusion section which is a lot of fun as it mixes in Korean, Vietnamese, Persian and more! Some of my favorite dishes are:
Tamarind Sweet Potatoes
Tempeh Vindaloo
Banana Pancakes
Thai Summer Rolls
Spinach Tofu Dumplings
Dan Dan Noodles with Tempeh
Nori Rolls
Mochi Treats
Indonesian Gado Gado
Uzbekistani Chick Pea Salad
Kim Chi
Korean BBQ Tofu
Um, yeah, pretty awesome! In addition, the authors offer up some additional books and resources as well as tips on preparation
basics for the novice cook.
With 150 recipes that span the east, you will never tire of your same old menu. Being able to whip up a healthy, delicious,
Asian inspired meal is a snap with the The 30 Minute Vegan's Taste of the East.
You, your family & your belly will thank you!