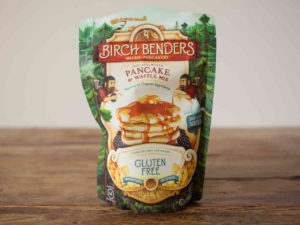 Who doesn't love a tasty pancake breakfast? My friends at Birch Benders have made it even better!
Taste and quality are their number one priority as a brand. They spent over a year developing the recipes, and another six months testing every variety of each ingredient double-blind. Springwheats and winter wheats, brown flax and golden flax, different particle sizes and protein levels – every possible variant was analyzed to ensure the tastiest recipes imaginable.
And what's more, you don't need milk and eggs to make these tasty flapjacks, just add water! With a wide variety of mixes, there is something for everyone, including vegans! Here are just a few!
Original
Gluten Free
Chocolate Chip
Protein
Paleo
Sweet Potato
Six Grain
Double Chocolate Peppermint
Gingerbread Spice
Pumpkin Spice
And more!
Delicious varieties made with wholesome ingredients, that's why Birch Benders is Healthy Voyager Approved!