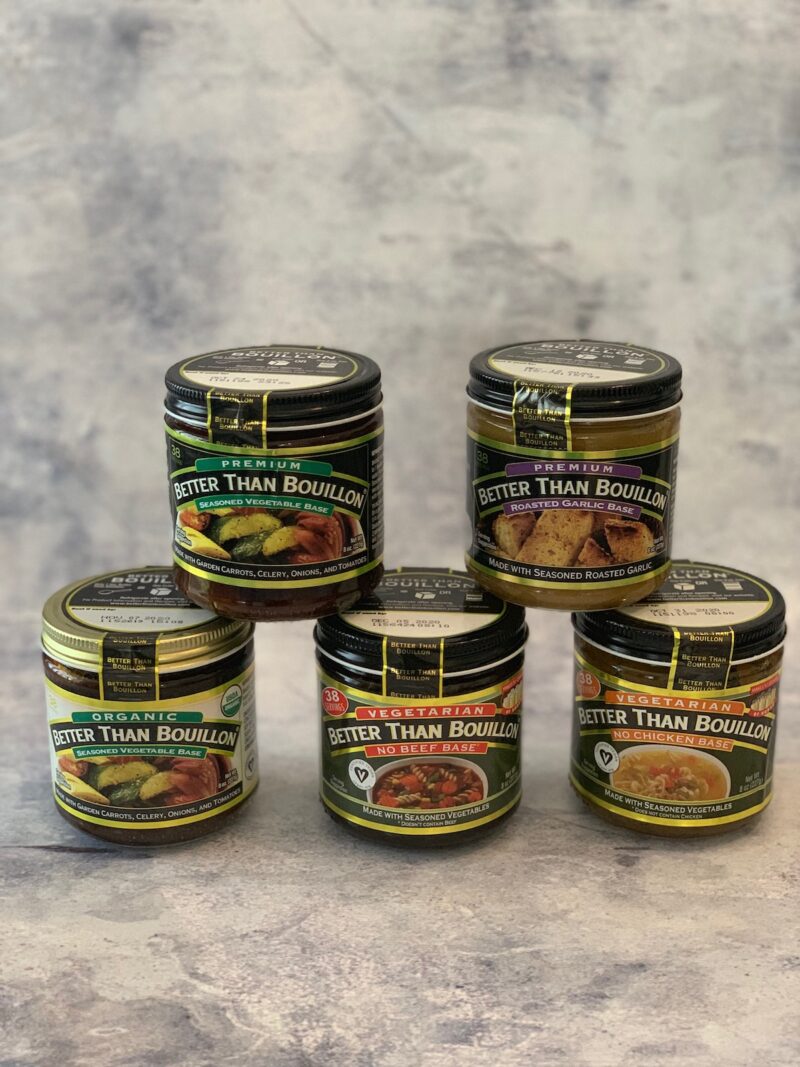 This post was sponsored by Better Than Bouillon as part of an Influencer Activation for Influence Central and all opinions expressed in my post are my own.
Food without flavor is just sustenance with no enjoyment. And while there are many ways to add flavor to your favorite foods and recipes, there is one way that I gravitate toward for most things. And that is Better Than Bouillon!
Offering 5 vegetarian/certified vegan varieties, Better Than Bouillon is the best way for veggies and non-veggies alike to pack a flavorful punch to all sorts of tasty treats. Perfect for everything from homemade soups to marinades, broths to dressings, I absolutely love the wide range of foods I can make without sacrificing flavor or having to use animal products!
The 5 delicious varieties include:
Seasoned Vegetable Base
Roasted Garlic Base
Organic Seasoned Vegetable Base
Vegetarian No Beef Base
Vegetarian No Chicken Base
Better Than Bouillon is a concentrated paste that can be used to boost the flavor of meatless dishes and create satisfying plant-based versions of your favorite meals.  A wonderful alternative to canned broths that expire quickly once opened or cubes that have the potential to taste gritty or not dissolve completely.
When I discovered BTB years ago, I was over the moon! Being vegan since 1998, I was always searching for ways to add flavor to dishes and re-create some favorite meals, always attempting to get close to flavors that I once remembered enjoying. And Better Than Bouillon opened up a whole new world for me! Gone were bland tasting soups and mains, hello incredible tasty food!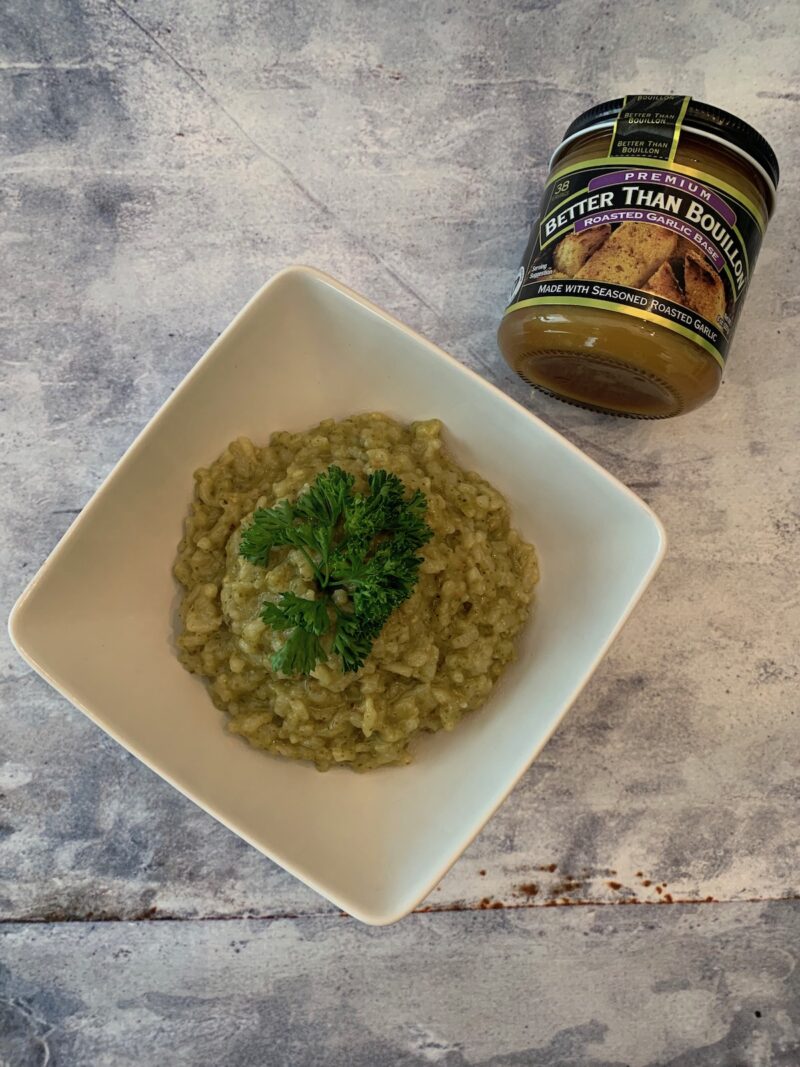 So no matter what you're making, you can substitute broths, stocks and cubes for the second to none flavor of the Better Than Bouillon line of products! In fact, there is a handy conversion tool so it's easy for you to find out how much you need to swap in your recipes!
Check out this bursting with flavor vegan pesto risotto recipe!
Vegan Pesto Risotto
FOR THE PESTO:
2 cloves Garlic
2 cups Packed Basil Leaves
1 teaspoon Nutritional Yeast
1 cup Spinach Leaves
1/4 cup Olive Oil
3 Tablespoons Fresh Lemon Juice
Kosher Salt
FOR THE RISOTTO:
4 Tablespoons Olive Oil
1/2 Yellow Onion, Diced Small
1-1/2 cup Arborio Rice
1 cup Dry White Wine
5 teaspoons Better Than Bouillon Roasted Garlic Base
5 cups water
Kosher Salt
Fresh Basil, For Garnish
Preheat oven to 400ºF.
To make the pesto, combine garlic, basil, spinach, nutritional yeast, olive oil and lemon juice in the jar of a blender. Puree until smooth and then season with kosher salt. Set aside.
For the risotto, in a large pan over medium heat, add the olive oil and onion. Saute the onion, stirring often, about 5 minutes. Add rice and stir to coat the rice with the onion and oil. Cook, stirring often, for 2 minutes.
Meanwhile, bring stock to a simmer over low heat in a small pot near by the pan.
Add wine to rice and stir, scraping any bits from the bottom of the pan. As the wine cooks off, add a large ladle of stock and continue to cook and stir. As the stock cooks off, add another ladle of stock. Continue this process of adding stock and cooking it off, stirring continuously.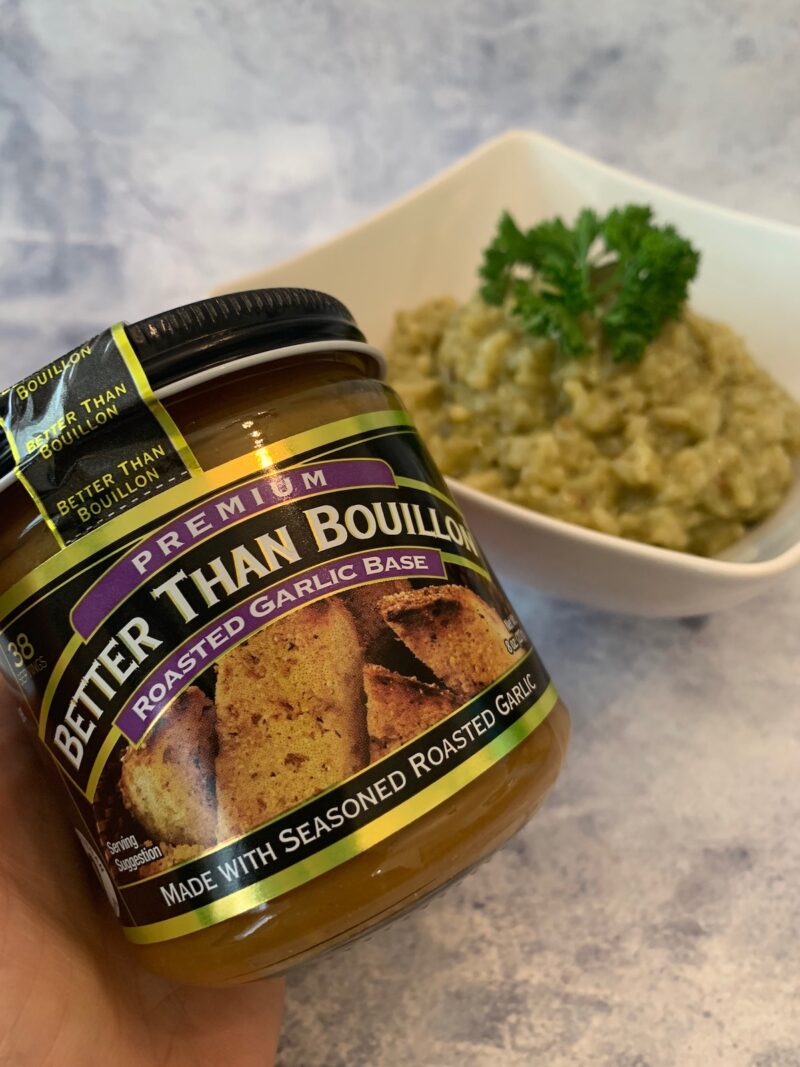 When you are about 20 minutes in and have added most of the stock, add the spinach-basil pesto and the rest of the broth. Continue to cook another 2 minutes or until rice is tender and cooked through. Season to taste with kosher salt.
Spoon into serving bowls and top with the roasted cherry tomatoes and a drizzle of olive oil. Garnish with fresh basil if desired.