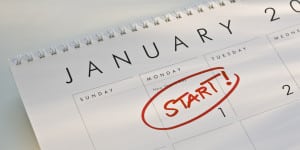 It's here, have you made your list yet? Setting goals that are hard to keep so by Mid to maybe late January, we've already started the new year on the wrong foot. Many mean well when they sit down to jot down their list of ways to improve themselves and their lives in the coming year however most fall short of accomplishing their goals very quickly.
In fact, sometimes resolutions can have an adverse affect. Setting oneself up for disappointment can lead to that slippery slope of throwing your hands up in the air in despair very early in the year, giving up before you've even started.  Sometimes, it's actually best to not "resolve" to do anything new at all. After all, every day is a new chance to start fresh so the pressure of starting every year this way can be a bit defeating.
But, there are many ways that you can take this yearly tradition and make it work for you. Here are a few ways to be sure that you will not only make good resolutions this year, but keep and/or accomplish them by the time the malls and commercials are jolly and festive at this time next year!
Be honest with yourself – don't make goals that are so tough and unattainable that you will inevitably fail to reach. That only leads to disappointment which can lead to a whole host of bad things (depending on the goal!)
Make specific goals – Don't just say "I want to lose weight". Be specific, and like the previous tip, be honest. Pick an achievable weight in an an achievable amount of time. Say 5 pounds by Valentine's Day or something like that. This way you know exactly what to work for and when. Saying you will lose 50 pounds this year may be achievable but you're more likely to reach that goal in increments as opposed to a lump sum. Nothing motivates you more then results and you can only get results of you know what the result should be!
Don't beat yourself up – Again, resolutions are supposed to be outlines for life improvement, not dead set rules. Give yourself the gift of patience and flexibility because, after all, you're still human even after the new year!  In addition, don't give up if you've not reached your goals by their set date. Pick yourself up and try, try again!
Resolve with a partner – Everything is easier when you've got a buddy to do it with. You are more likely to keep to your word when you're accountable to someone.  If you want to save money this year, tell a friend and check in with them to keep you on track. Perhaps you can even do it together and set rewards when you reach certain milestones.
Don't pick everyone else's resolution – Your list should be personal and important. Maybe you don't need to lose weight or are good with saving money. If all you want to do is get to Italy by next year, don't fret that you haven't come up with anything else more "profound".  It's your life, your list and you are in charge of what these resolutions mean to you.
Either way, resolve to not resolve this year or resolve the right way. Have a very happy new year and may you have a fabulous year ahead!