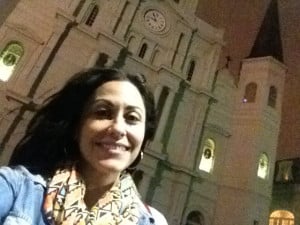 Since early 2020, travel for many people has been restricted. Vacations have been canceled, flights never re-booked, and plans put on hold. As the world begins to rebuild after the waves of the Covid-19 pandemic, people are beginning to lead normal lives again. That – means you guessed it – people can travel again! 
If you haven't been before, it's time to get yourself over to the wonderful New Orleans. This has to be one of the top destinations on everyone's list, whether an American or international tourist. New Orleans is a proverbial melting pot of cultures, creating a truly unique city, diet, and music scene.
Where is New Orleans?
New Orleans, often referred to as NOLA or "The Big Easy," is a city located along the banks of the Mississippi River in the southeast of Louisiana. Founded in 1718 by French Colonists, the city used to be the capital of French Louisiana before merging with the United States in the early 1800s. The French influence mixed with the southern people who migrated there in the 1800s and beyond has made NOLA one of the most interesting, exciting, and vibrant cities in the world. It has a hugely varied mix of people and cultures, making it incredibly interesting. 
The Jazz Story
If you know about New Orleans, you know that it is often referred to as the birthplace of jazz music. Whether you're interested in jazz improvisation, big bands, or don't know much about it at all, you'll find all you need to know in this city. There are thousands of jazz bands in NOLA – but, where did this all come from?
There are many rumors as to who was the inventor of jazz music. Many people say that jazz was born as far back as 1895 when Buddy Bolden started his own band. Others say that it goes even further, with its roots in the Congo Square drumming and voodoo rituals that took place before and during the American Civil War. Others cite the first jazz band recording, which was recorded by the Original Dixieland Jazz Band in 1917. One thing is for sure, all of these stories are based in New Orleans. When you visit the city, you'll immediately spot this city's love for jazz and music in general.
Catch Some Live Music
So, it goes without saying that one of the best things to do in New Orleans is to catch a live band. Whether you're on the famous party-laden Bourbon Street or in a quieter part of town, you'll find music. Bars almost always find space to fit a 3, 4, 5, or even 6+ piece jazz band in. You might have to squeeze in by the bassist or stand at the bar, but you won't be disappointed. Many of the musicians you'll find have been performing in the city for decades, mastering their craft, so you're always going to find a great show. 
Explore the French Quarter
Many of the lovely bars in NOLA can be found in the French Quarter. As the name suggests, this part of New Orleans has been around a long time, since the original French settlement. Luckily for tourists, the area has not changed much since those early settled days. It has retained much of its original charm. Here you can find cafes, bars, and restaurants nestled in leafy courtyards and on cobbled high streets – it is truly magnificent to explore.
One of the main draws of the French Quarter has to be the infamous Bourbon Street. This area is where you'll find late-night on-street drinking, bars open until mid-morning, and plenty of Mardi Gras parties. This street is packed with live music and party vibes. However, it is quite hectic at night, so if you want a more chilled evening you might want to give it a miss.
Other Cool Districts
Aside from the French Quarter, there are a couple of other main districts you may want to pay attention to. Firstly, the Faubourg area. This has a similar vibe overall to the French Quarter, yet it feels more modern, young, and new. In this area, you'll find artists' studios, tattoo parlors, and intimate live music bars. 
If you're looking for a relaxed afternoon or evening, you should check out the Garden District. This area has streets adorned with old oak trees, large mansions, and open green spaces. You'll still find plenty to eat and drink, but the crowd will be more sedate and relaxing. 
Where to Stay
If you consider the main districts above, you should have a good idea of where you'd like to stay in New Orleans. Both the Garden District and the Faubourg are packed with cute B&Bs and laid-back guesthouses. In the French Quarter or Downtown NOLA, you'll find more modern chain hotels. For example, Ace Hotel New Orleans Downtown will give you a real classy experience. Plus, travel is easy from just about anywhere using the town's streetcar network.
Food in New Orleans
As mentioned, NOLA is a melting pot of southern and European culture. This has led to some of the most interesting, delicious, and varied foods in the country. Great food is so easy to find in New Orleans that you could do a full tour of restaurants and not get bored! French and Creole dishes like gumbo are on every corner, while you can eat this style of food on a budget or head to many of NOLA's Michelin-starred restaurants.
Stroll Around a Museum
Finally, it's always worth checking out a museum when you visit a city like New Orleans. In NOLA there are classic museums of history, art, and world wars. However, you can also find something a little different if you want. The House of Voodoo and Voodoo Museum shows a different history of New Orleans that should not be missed!
There is so much to see and do in New Orleans that you'll almost certainly want to make a second trip. The nightlife, food, and music scene are enough to keep you busy for a week – should you have the stamina for it! Meanwhile, the museums, lovely hotels, and chilled areas of town can balance out a lovely trip.