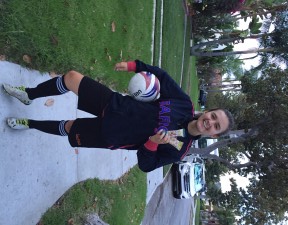 As any parent knows, it can be challenging to get kids to eat well. With the bustling schedules, lack of time, etc and can be tough to find the right snacks to keep your kids fueled up during after school sports without spoiling their dinner.
So how do you find that perfect balance?
Researchers Jennifer Sacheck, Ph.D., and Christina Economos, Ph.D., delved into the topic a few years ago for MLS.com (that's Major League Soccer).  Here is a list of snacks, based on Sacheck & Economos's recommendations as well as conversations with several nutritionists.
Pre-Activity (~100-300 calories)
Whole grain pretzels
Half a wheat bagel with jam
Fresh fruit
1/2 cup raisins and peanuts
Carrot or celery sticks with hummus & pita
Post-Activity (~100-300 calories)
Applesauce and string cheese
Fruit smoothie with calcium-fortified soy milk
Trail mix
Apple and peanut butter
Half a peanut butter sandwich on a bagel
You can also check out NMA's fueling guides, just keep these kid-specific guidelines in mind:
Balanced kid's meal: carbohydrates (46-65%), protein (10-30%) and fat (25-30% and not less than 20%). Through balancing it, you should provide 25-31g of fiber.
Calcium: 800mg/day (4-8 year olds); 1300mg/day (9-13 year olds). Young athletes need to develop strong bones, but there's no need to overdue it with too much milk. Good sources include fortified soy milk, beans, tofu, broccoli, kale and almonds.
Vitamin D: crucial to calcium absorption. Most kids require a supplement or fortified foods and drinks.
Iron: kids tend to be really low on this crucial mineral. Vitamin C helps absorb iron from non-animal sources such as beans, spinach, tofu, lentils and apricots.
Zinc: helps with muscle recovery. Get it from beans and whole grains.
Focus on whole fruit, not juice.
Avoid caffeine and sodium. Children are less capable of thermoregulating, making adequate hydration crucial. Caffeine and sodium mess with hydration.
For more on meal and snack composition and timing, Sacheck and Economos offer informational guides for parents and kids, as well as a scientific breakdown.
Plus, knowing which brands offer up a nutritious punch for busy days can also be very helpful. In fact, Nature Valley has just launched 10 new varieties of their yummy bars in gluten free options! So you can sleep well knowing that there are brands out there that have your back as a parent, saving time and money while keeping your kids fueled up properly!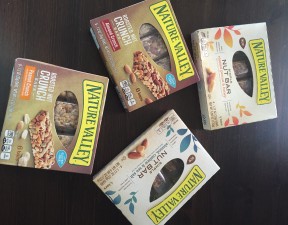 Now available in Nut Crisp, Nut Crunch, Simple Nut Bar and Protein bars, rest assured that you and your kids can now snack well, gluten-free style!
And, for some more fun, Nature Valley is hosting a super fun sweepstakes! Here are the details on how to enter the Nature Valley Perfect Pair Sweepstakes:
Post a photo showing a Nature Valley gluten free bar and another food item, object or activity that you feel pairs well with the bar & include the hashtag: #NVPerfectPairSweepstakes in your post for a chance to win one of 2 $500 Visa Gift Cards!
Entry Methods:
1) Facebook Sweepstakes Entry via Nature Valley Facebook Page: http://www.facebook.com/naturevalley
2) Instagram Sweepstakes Entry – follow @naturevalley and post to your public Instagram account using hashtag
3) Send a 3" x 5" card with your name, mailing address and email address to Nature Valley Perfect Pair Sweepstakes, P.O. Box 2605, Grand Rapids, MN  55745-2605
Full contest terms & conditions will be available via Facebook Sweepstakes Entry Page.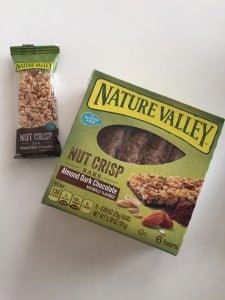 If your child isn't doing more than the USDA's recommended 60 minutes of moderate to vigorous activity on most days of the week, he or she doesn't need extra snacks. Soccer, as with most recreational sports, often doesn't count as a full 60 minutes of vigorous activity, as so much of it involves standing around. In other words, an hour of soccer practice twice a week does not mean your child needs huge dinners and snacks, no matter how nutritious.
This is a sponsored conversation written by me on behalf of Nature Valley. The opinions and text are all mine.