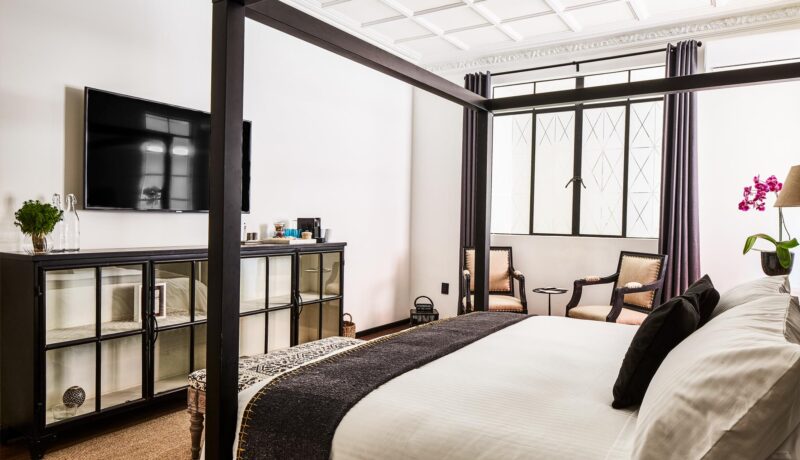 One of the most fun ways to greet the new year and get off to a great start is by doing a bit of a home refresh. There are so many options when it comes to inviting in new design elements, and it's always such a nice mental boost to get a new perspective on the rooms we call home. Here are five trends to look out for in the coming year and ways to incorporate them into your space in a really approachable way. Finding a way to incorporate each of these elements into the key rooms of your home is a sure way to feel brand new.
Interior Barn Door
One of the easiest ways to add some spice to a space is by changing the threshold itself. Adding interior barn doors instead of a regular door adds tons of visual interest whether they are open or closed. They look great in natural tones or painted fun, contrasting hues. Another huge benefit is the way they open up the space! By having a door that slides flush with the wall, you don't have to accommodate for a door's swing radius. This could open a corner for another design element like a big chair, leaning mirror, etc.
Textural Elements
Texture is on an upward trend more than ever. Plants had their moment and are here to stay. Faux fur throws, poufs, and more. These can be big statement pieces that dominate a room, like a couch in an unexpected textile or multiple layered rugs. An understated way to bring this in would be some layered throw pillows and draped blankets in coordinating hues. Dried botanical elements like pampas grass also add a fun textural punch without being too dominating.
Cozy Cottage Vibes
"Cottagecore" having its moment on Pinterest is showing to be a huge contender for a top trend in 2022. After over a year of us all being cooped up inside, it only makes sense. Don't you want your space to feel cozy, comfortable, and inviting? This is most prominently displayed in the kitchen, with tea or coffee stations being fully decorated and taking up prominent visual space. More fun ways to enhance the cozy feel are with layered knits, lots of plush rugs, and plenty of books stacked in sight. Books can be displayed in a myriad of ways to add fun details to gallery walls on floating shelves, stacked aesthetically on coffee tables, and styled on shelves with other trinkets.
Statement Lighting
If you wanted to completely change the feel of a room by doing the least amount of rearranging, lighting is the go-to choice. Ambient lighting behind a piece of art or under a platform bed, a dynamic arching lamp, LEDs framing a mirror, or even an entire accent wall. The sky is really the limit here. There are plenty of luxe options at all the major design houses to really make a statement. For more affordable options, LEDs can be found at really approachable price points, and don't forget thrifting. A great vintage lamp or chandelier could be a super punchy element.
Sustainable Choices
It can be hard to feel like we can make a difference as individual consumers when it comes to saving our planet. While each of us may be small, it doesn't mean that collectively we can't make a big difference. One of the best ways we can do that is by shopping more sustainably. The market for planet-friendly décor is continually expanding in ways that are really exciting. Natural elements like rattan can add a boho touch, bamboo is not just for whimsy wall art and can now be found as fabric (SO soft and cooling, too), and even recycled plastics are starting to hit the décor market. More and more companies are starting to put a green spin on former offerings.
What design trend are you most looking forward to for 2022? No matter the trend, a home that feels like you is what is most important. Understanding what matters most to you is a great way to lay a strong design foundation. From there, you can pick and choose which elements to highlight.