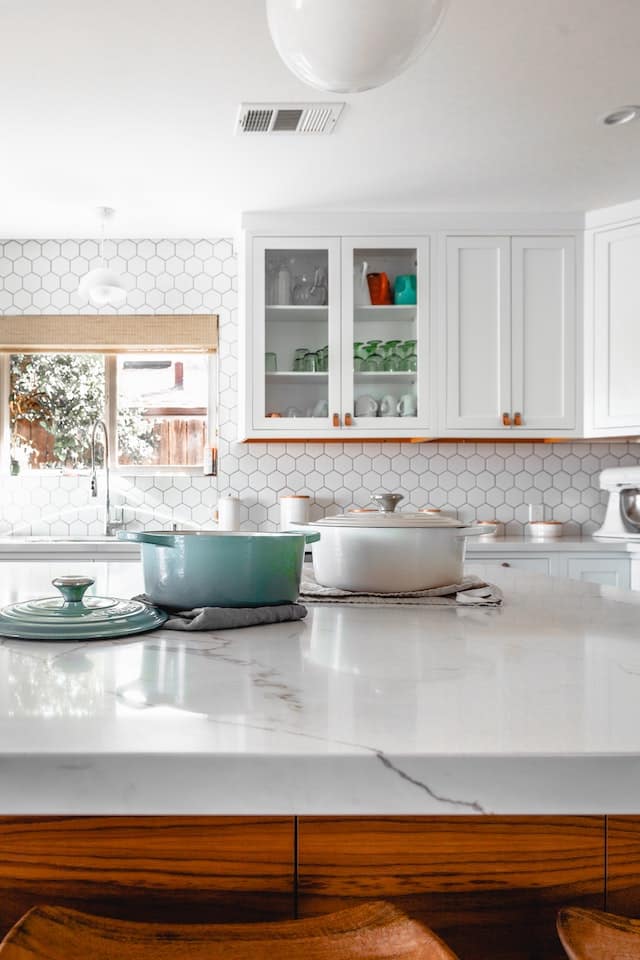 Kitchens come in all sorts of shapes, sizes and, most importantly, styles, so everyone can choose the design that suits them best. From traditional to contemporary and everything in between, we've seen it all throughout the years. The '60s kitchens were all about bright colours and crazy patterns, while the '80s saw a resurgence of plain white cabinetry. In more modern times, the open-plan concept gained ground and farmhouse or industrial-style kitchens became extremely popular. 
It's normal for kitchen trends to come and go, but when you consider all the time, effort and money investment it takes to remodel or design a kitchen from scratch, you realize how important it is to choose a style that fits your needs now and in the future. 
If you don't want to turn the most important room in the house into a construction site every few years, it's best to let go of fleeting trends and go for a kitchen that can stand the test of time and won't require constant updating. So, here's how you can create a timeless kitchen that you'll be able to enjoy for years to come without breaking the bank.  
Consider your needs 
A lot of things happen in the kitchen, apart from cooking and eating. That's why it's often dubbed the heart of the home. It's a room that often doubles as an event venue for social gatherings, an impromptu office where you can study or work while sipping a cup of coffee and grabbing a snack, or a place to spend quality time with your loved ones. 
Kitchens serve many purposes, and people use them in many different ways. So, before you make any changes or decide how you want your kitchen to look, you need to think about your wants and needs. What's the point of having a picture-perfect kitchen if it lacks functionality and doesn't suit your lifestyle? Aim to create a space that works for you and makes your life easier so that you can use it to its full potential. 
Decide on the layout 
The layout is one of the most important elements to consider when looking to design a timeless kitchen. You can always move furniture around or replace certain items if you change your mind, but there's little you can do if you get the layout wrong. 
The perfect layout should check a few boxes. It needs to cater to your personal preferences, as we've already mentioned above; it has to optimise your kitchen's capacity so you can make the most of your floor space and keep kitchen equipment and utensil in perfect order. And last but not least, it should also ensure convenience and practicality, so you can move around with ease and make sure everything is at your fingertips when you're working. 
Invest in quality pieces and materials 
Since kitchen remodels can be quite expensive, it can be tempting to resort to budget-friendly solutions. However, keep in mind that kitchens are also subjected to intense wear and tear, so you might want to splurge a little in order to achieve optimum results. Choosing sturdy natural materials for the foundational pieces in your kitchen is always the safest bet if you want to create a timeless design and keep your kitchen in good condition for longer. 
Think hardwood floors, natural stone tiles, solid wood kitchen units, marble countertops, or subway tiles and backsplashes. All these elements might be at the higher end of your budget, but they're going to ensure longevity and durability. Quality hardware, appliances and cabinetry are also preferable to cheaper items. When it comes to kitchen units, a great way to save money while also enjoying superior quality is to choose replacement solid oak kitchen doors that are both robust and aesthetically pleasing. 
Get the colours right 
Playing with colour is the easiest way to transform a room, but you need to choose the right hues if you want to achieve the look that you're after. Therefore, the colour of your cabinets plays an important role in the equation, as they take up a lot of real estate in the kitchen. You can't go wrong with classic white cabinets, as they have always been a favourite and will never go out of style. They're easy to integrate into the design of the kitchen and provide a clean aesthetic that everyone seems to enjoy. 
However, if you find all-white kitchens to be much too sterile and cold for your liking and you're looking for some warmth, neutral tones or natural wood cabinets provide a great alternative. Shades of cream, beige and grey, or earthy light green can add a bit of personality without being overbearing or compromising the aesthetical longevity of the space. 
Embrace simplicity 
No matter how organized you are or how spacious your kitchen is, it can still get quite messy, especially if you use them on a daily basis. There's no need to add to the clutter and chaos by mixing several styles or choosing intricate patterns. This is particularly true for elements that can't be easily replaced, such as wallpapers and tiles. 
Simplicity is the best policy when it comes to designing a timeless kitchen. So, it's best to stick to the basics and choose a few foundational pieces that will become the focus of the kitchen. Then, you can update the space with accessories, textiles, artwork, and other easy-to-replace design elements that can give the space a fresh and current look.   
If you're thinking about giving your kitchen a refresh or building a new one entirely, there are countless trends that you can choose from right now and a million combinations of colours, materials and styles. But if you want to design a kitchen that will last for years to come and that you'll never grow tired of, a classically timeless look is the way to go.