Most of you know that I am a frequent traveler. Which means, I need lots of rides to and from the airport.
As you can imagine, my airport ride favors ran out a long time ago so I had to start finding my own way. I've done shuttles, busses, private cars, etc but nothing compares to Wingz! OMG, this app has changed my airport ride life!
Think Uber for the airport but cooler! You can schedule you pick ups and drop offs way in advance, choose your driver, tip on the app and more. The best thing is that all the flight info is integrated into the app so your driver knows about delays, changes, etc and you're never left high and dry.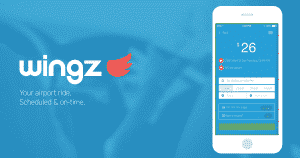 No more long commutes in a ride share shuttle that makes 10 stops before yours and no more expensive private car rides. Just great, on time service with great drivers all at a a cheaper pice than all those other services.
And PS – Wingz is giving away 30 coupons towards future rides! Use HEALTHYVOYAGER for $5 your next trip on Wingz (only the first 30 users will be able to redeem the code)
As of right now, Wingz is only available in a few markets but is expanding nationwide. So download the app and get traveling!